Regular price
Rs. 999
Sale price
Rs. 699
Unit price
per
30% OFF
Sold out
Ensures RBCs Formation

Increases Energy & Vitality

Promotes Skin Radiance

Relieves Stress & Anxiety
Please hurry! only left in stock
100% Secure Transaction
Free Shipping
Easy Return Policy
Extra 10% Off Prepaid Order
FREE delivery : Metro cities delivery in 2-3 days
Order within
View full details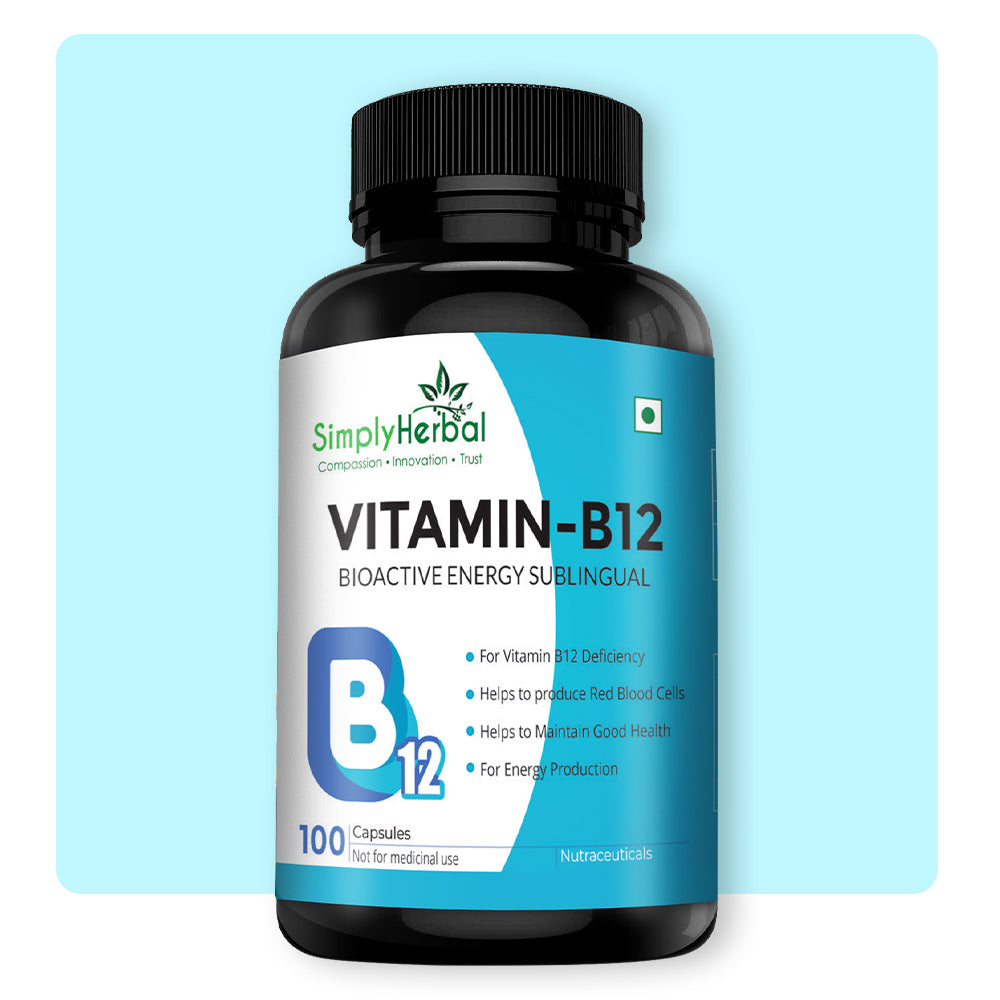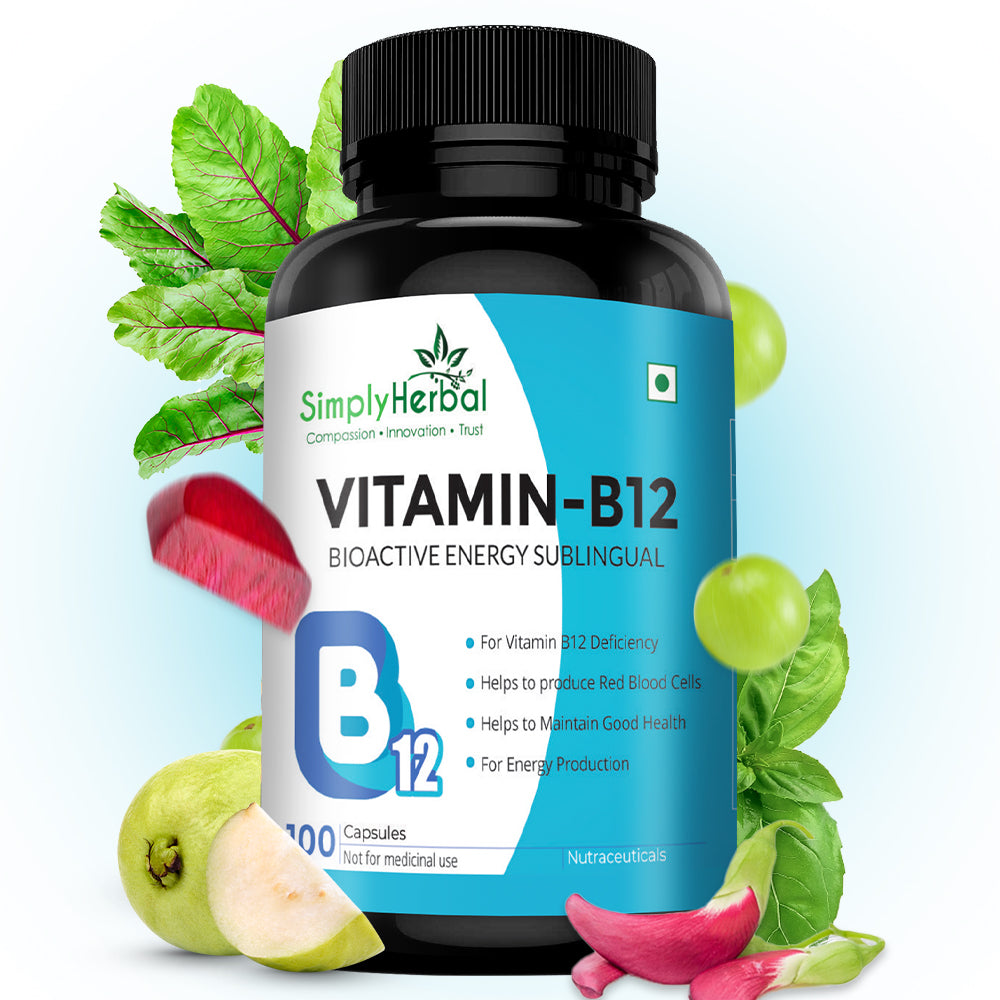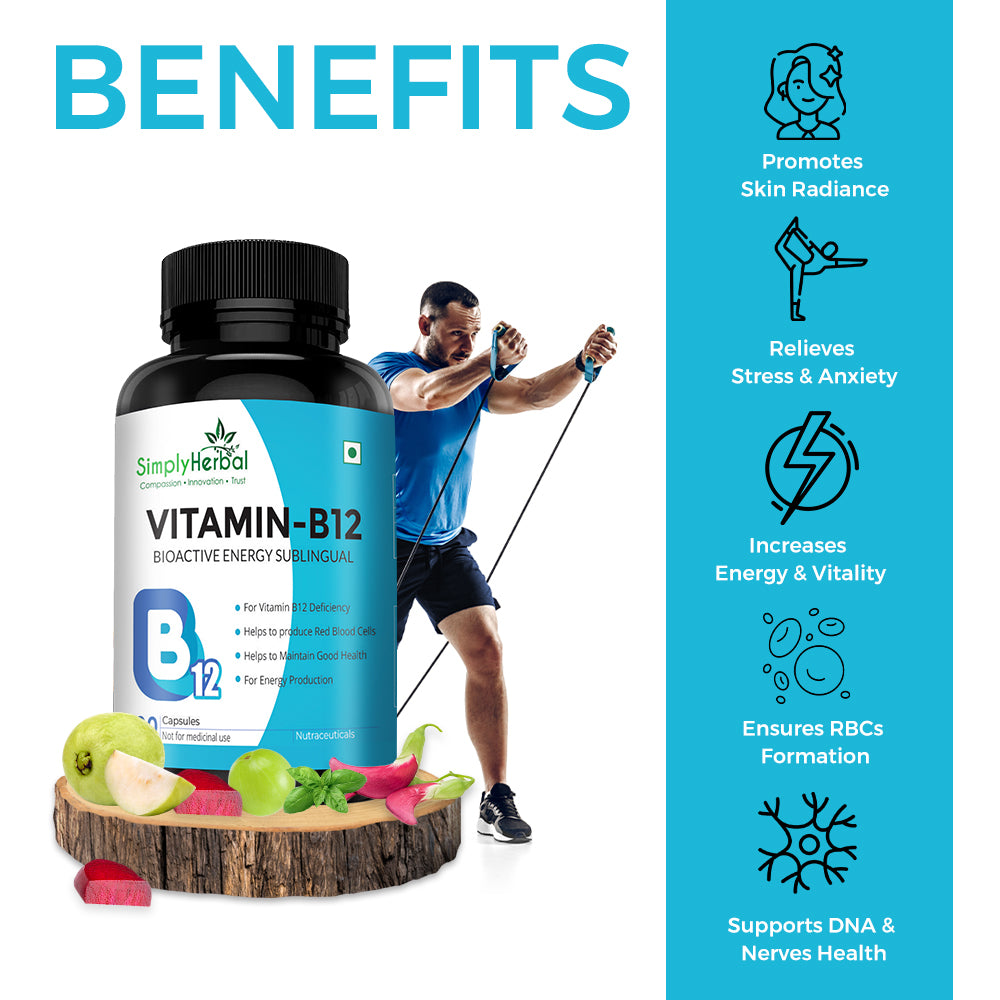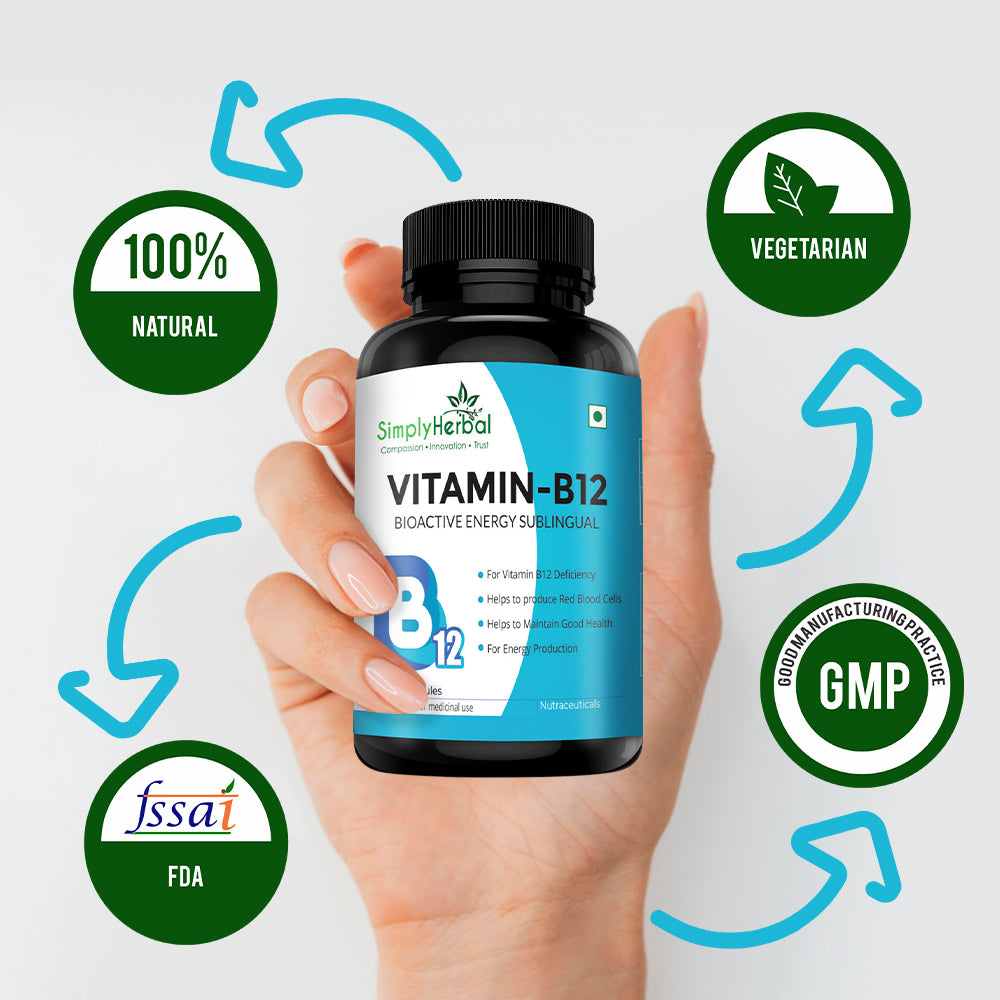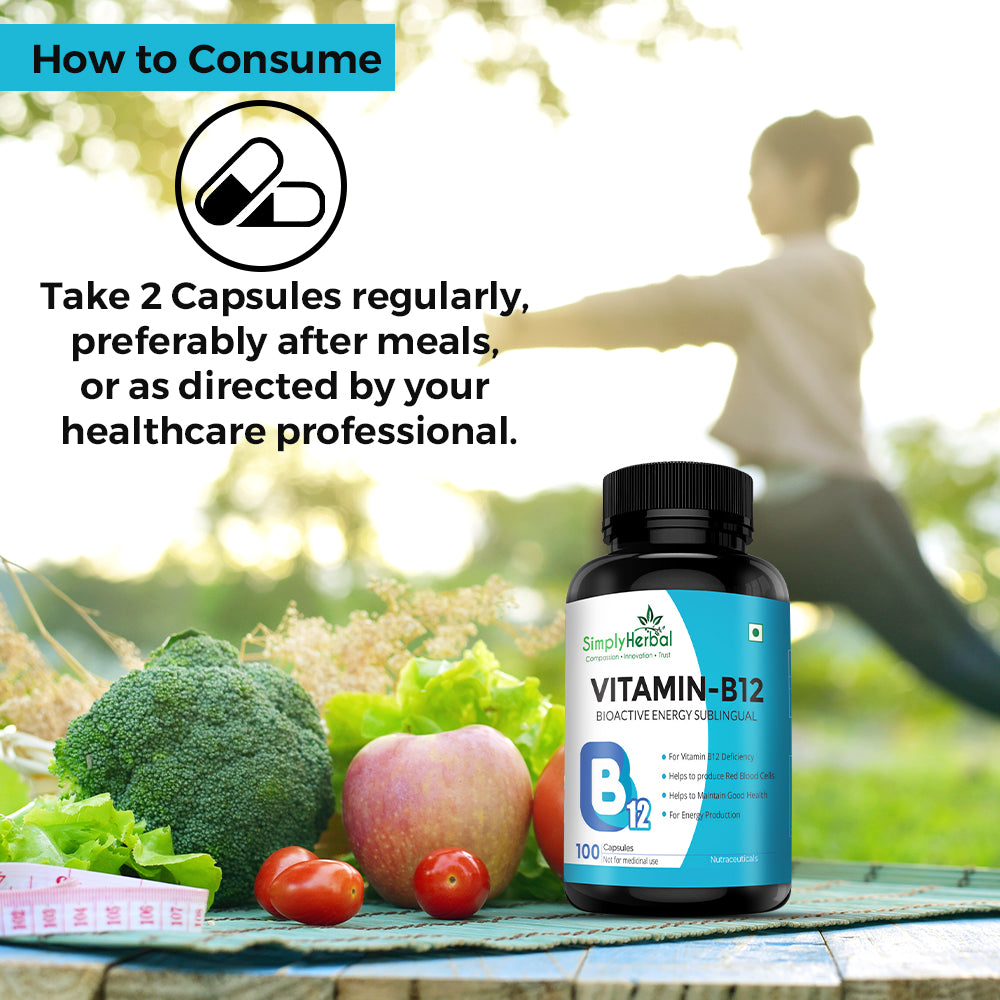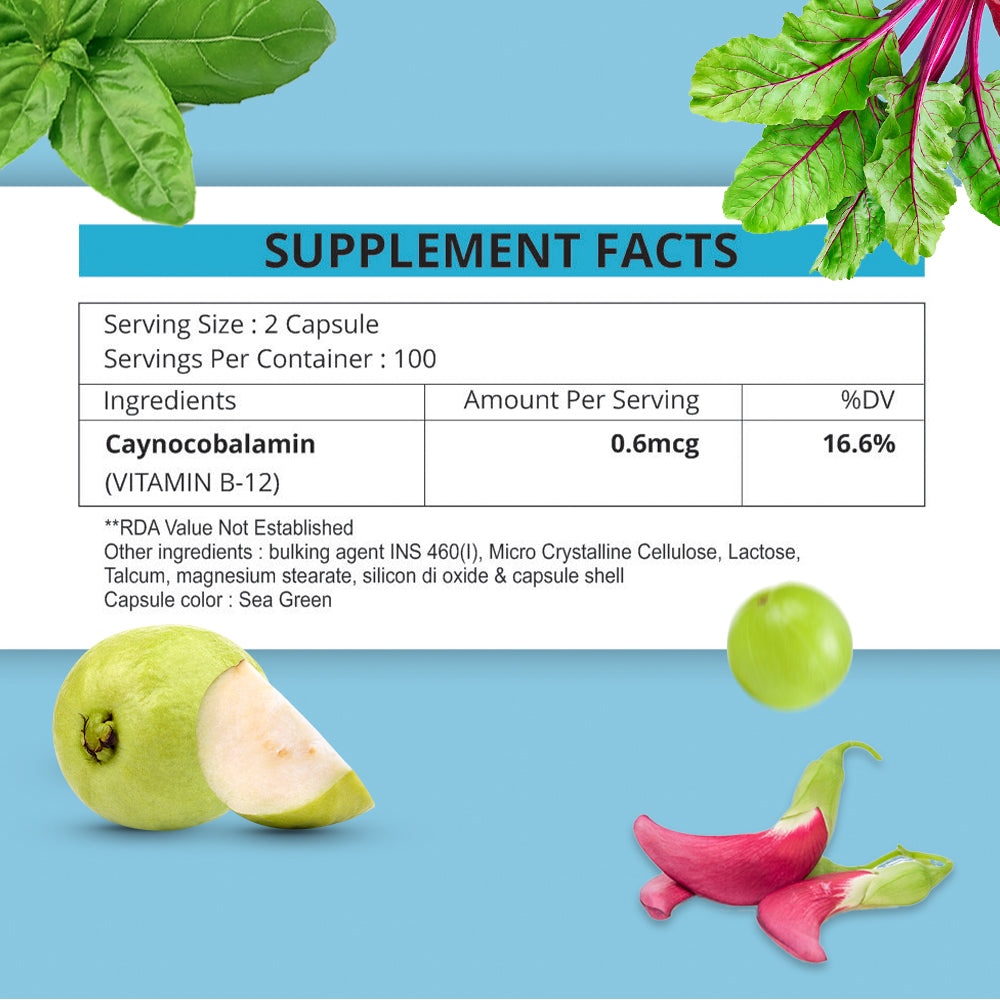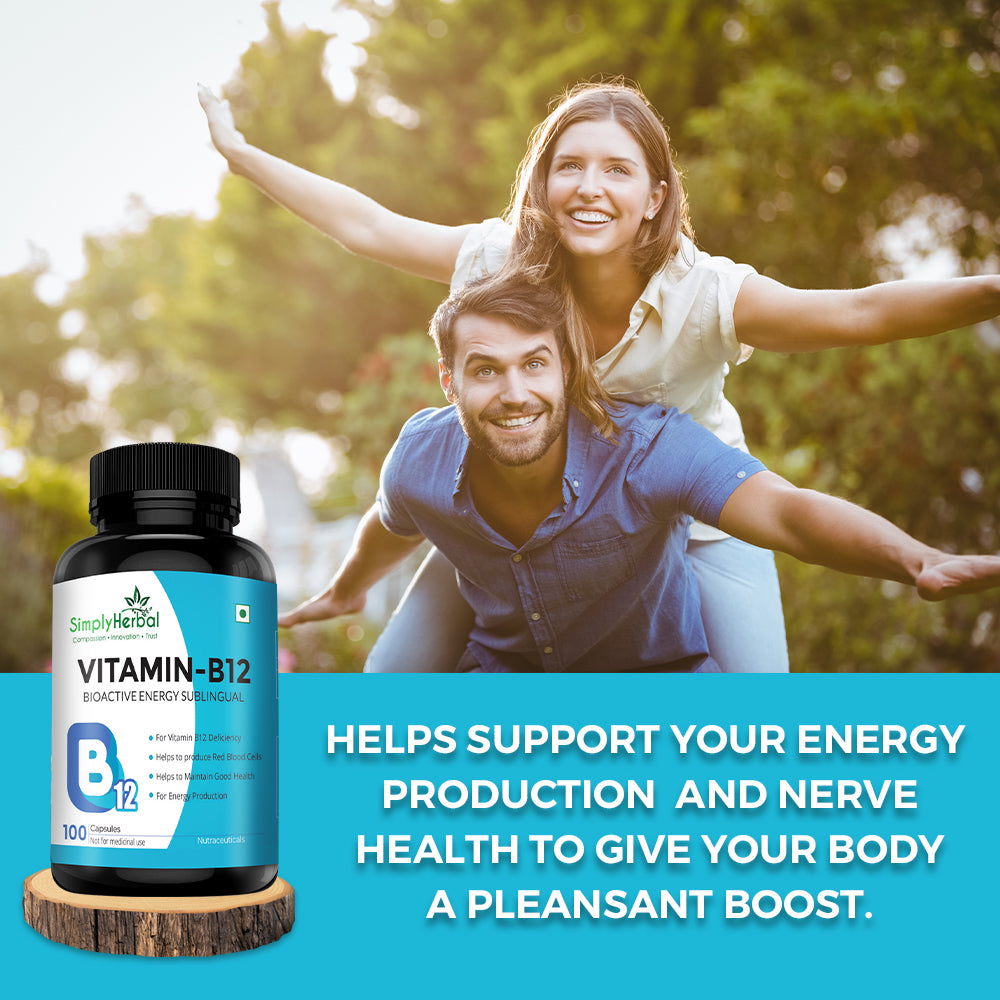 PRODUCT DETAIL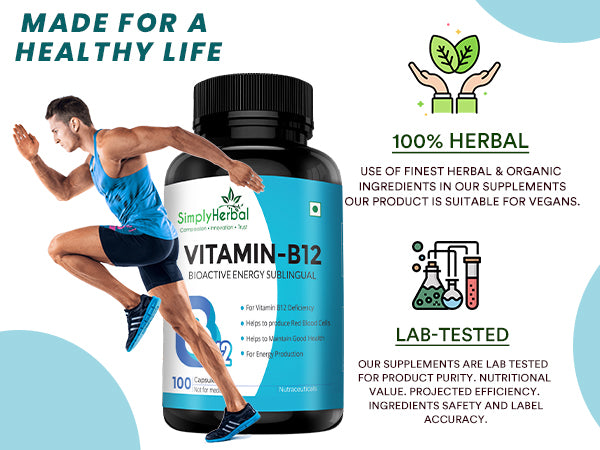 Vitamin B12, Methyl B12 Methylcobalami
Introducing Simply Herbal Vitamin B12, a crucial dietary supplement that includes Methyl B12 Methylcobalamin, a highly bioavailable form of Vitamin B12. This product comprises 100 plant-based capsules, specifically formulated to promote overall health and well-being.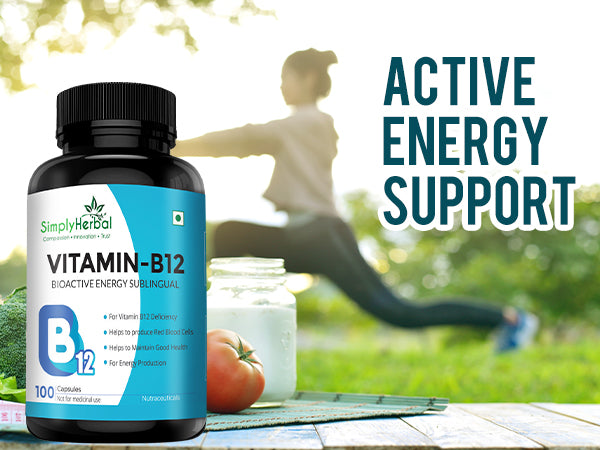 A Better Active B12 - Bioactive Energy Sublingual
Vitamin B12 is essential for red blood cell production, cardiovascular health, and increased energy levels. By maintaining optimal Vitamin B12 levels, you can improve your body's energy metabolism and support a strong heart. With Simply Herbal Vitamin B12, you can confidently enhance your diet and ensure your body receives the essential nutrients for optimal health and vitality.
Why Simply Herbal Vitamin B12 ?
Promote Nervous System Health and Support Energy Metabolism; Simply Herbal Methylcobalamin Promotes Rbc Formation and Development. Vitamin B12 is Essential for Humans at Every Stage of Life, From Conception Through Advanced Age. Vitamin B12 is Essential for Neurological Health, Mood and Energy, Produce Red Blood Cells, Maintain Good Health, and Heart Health.
Key Ingredients
Vitamin B12 (Methyl B12 Methylcobalamin)

The primary and essential nutrient responsible for various bodily functions, including red blood cell production, supporting the nervous system, and promoting heart health.

Plant-Based Supplements

The capsules are made from plant-based materials, making them suitable for vegetarians and vegans seeking a reliable source of Vitamin B12
Benefits
Vitamin B12 Help

Vitamin B12 assists in the metabolism of carbohydrates, fats, and proteins, facilitating the conversion of food into usable energy. Consistent supplementation can result in heightened energy levels and reduced feelings of fatigue.

Heart Health

Vitamin B12 promotes a healthy cardiovascular system by aiding in the regulation of homocysteine levels in the blood. Maintaining proper homocysteine levels is associated with a decreased risk of heart-related concerns.

Maintains Good Health

Vitamin B12 plays a significant role in various biochemical processes that support the nervous system, brain function, and DNA synthesis. Its presence is vital for sustaining overall health and a well-functioning body.

Plant-Based Supplement

Simply Herbal Vitamin B12 is a suitable choice for vegetarians and vegans as it is derived from plants, offering them a dependable source of this essential nutrient.
How to Use
Consume One Capsule of Simply Herbal Vitamin B12 Daily With Water, Preferably During a Meal. Adhere to the Recommended Dosage and Avoid Exceeding the Daily Intake. Make It a Part of Your Daily Routine to Effectively Support Red Blood Cell Production, Maintain Good Health, Boost Energy, and Promote Heart Health.
Maximize Outcomes Stay Committed
Best Result Require at Least 3 Months

Adopt a Healthy Lifestyle

Stay Well Hydrated by Drinking Water