Regular price
Rs. 1,999
Sale price
Rs. 799
Unit price
per
60% OFF
Sold out
SUPPORTS HEART HEALTH

ENERGY AND STAMINA

POWERFUL ANTIOXIDANT

GLOWING SKIN
Please hurry! only left in stock
100% Secure Transaction
Free Shipping
Easy Return Policy
Extra 10% Off Prepaid Order
Save Extra with 4 offers
Offer :Use code COQ10 & get Extra 10% OFF! (for orders above 599)
Offer :Use code SAVEEXTRA & Get 1 Extra Bottle (Not Applicable on 1 Bottle Pack).
Order within
View full details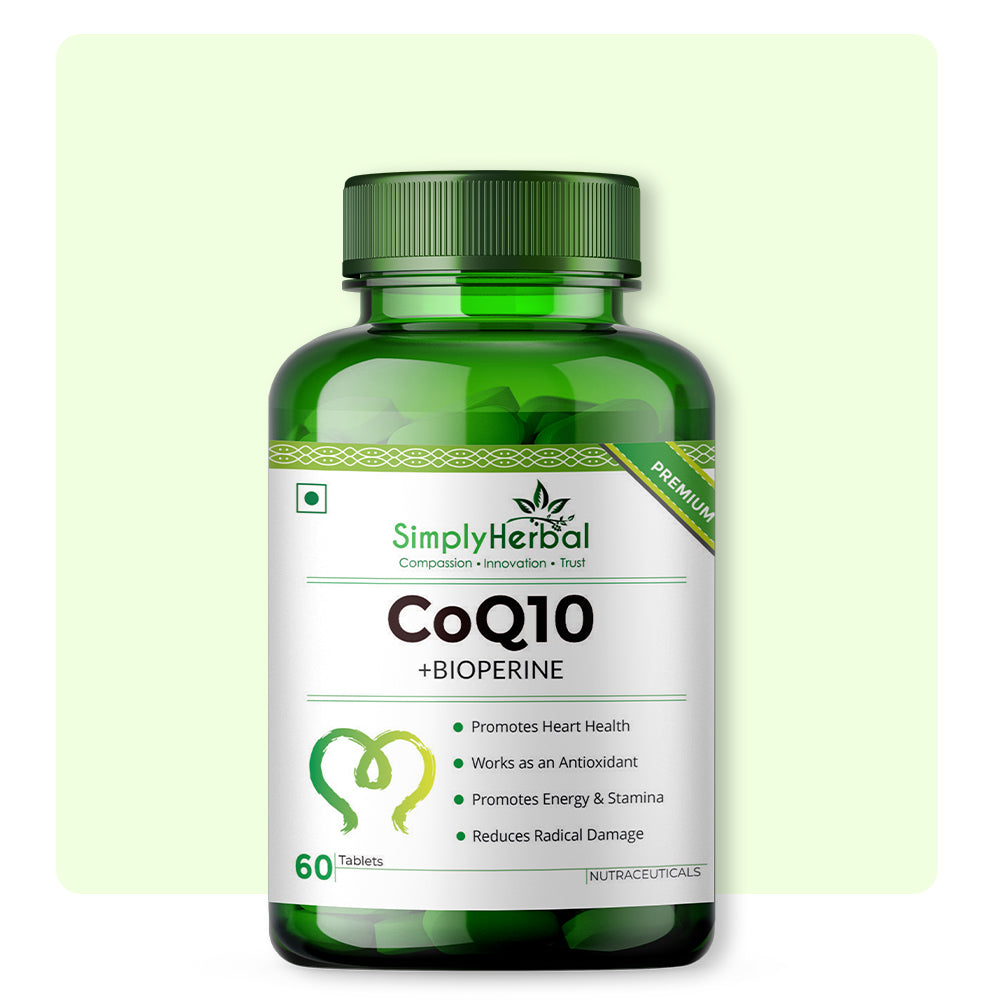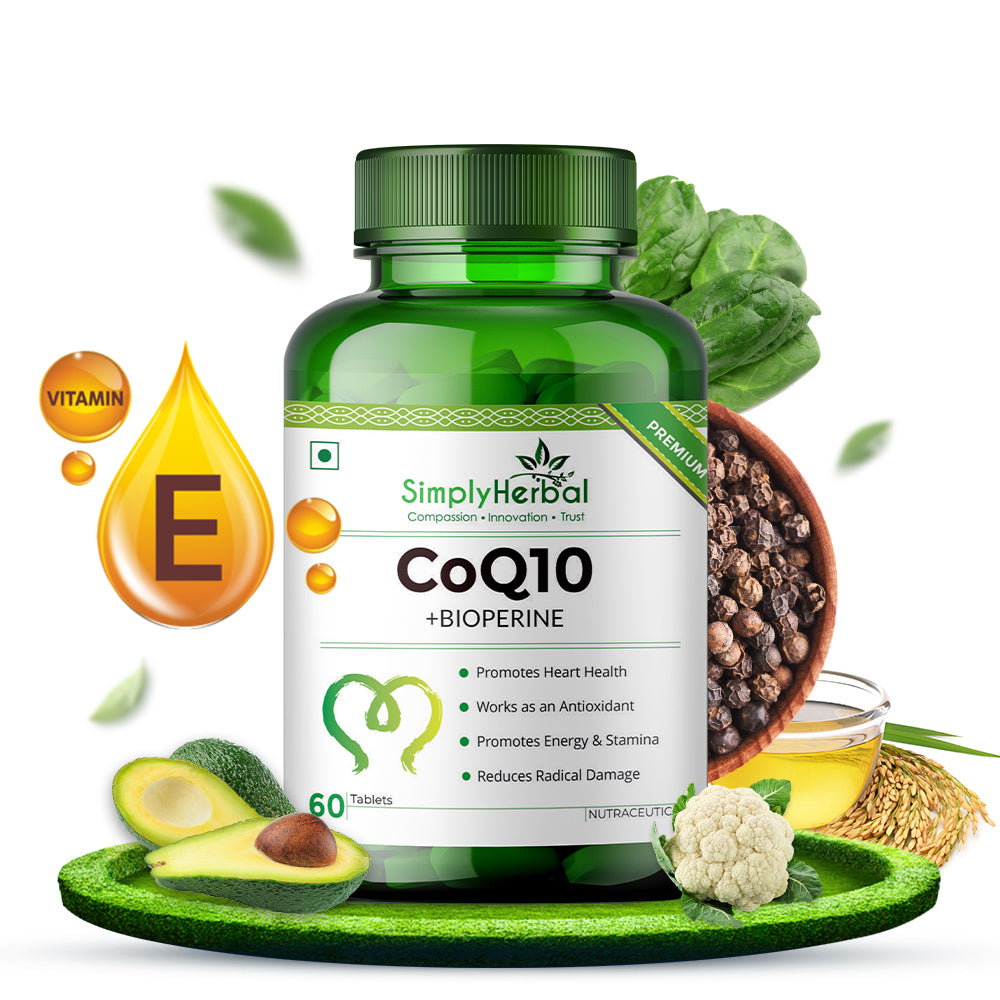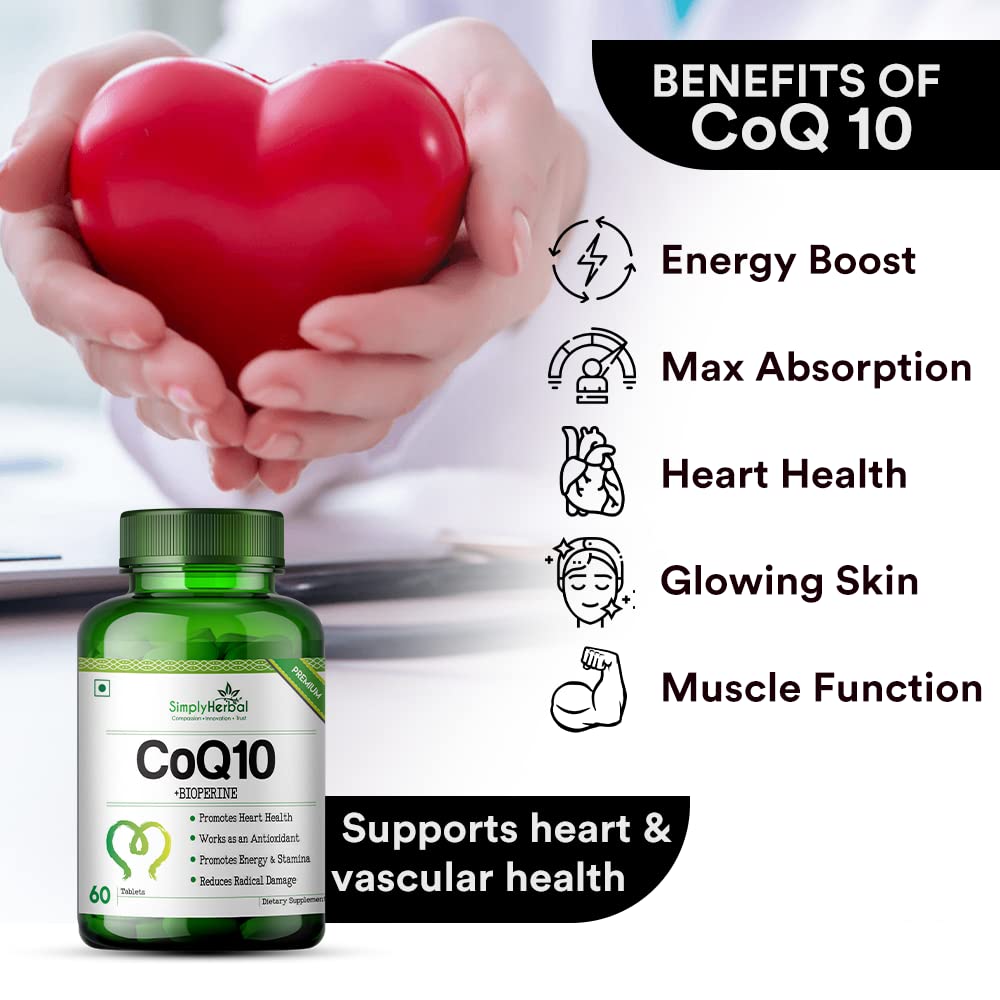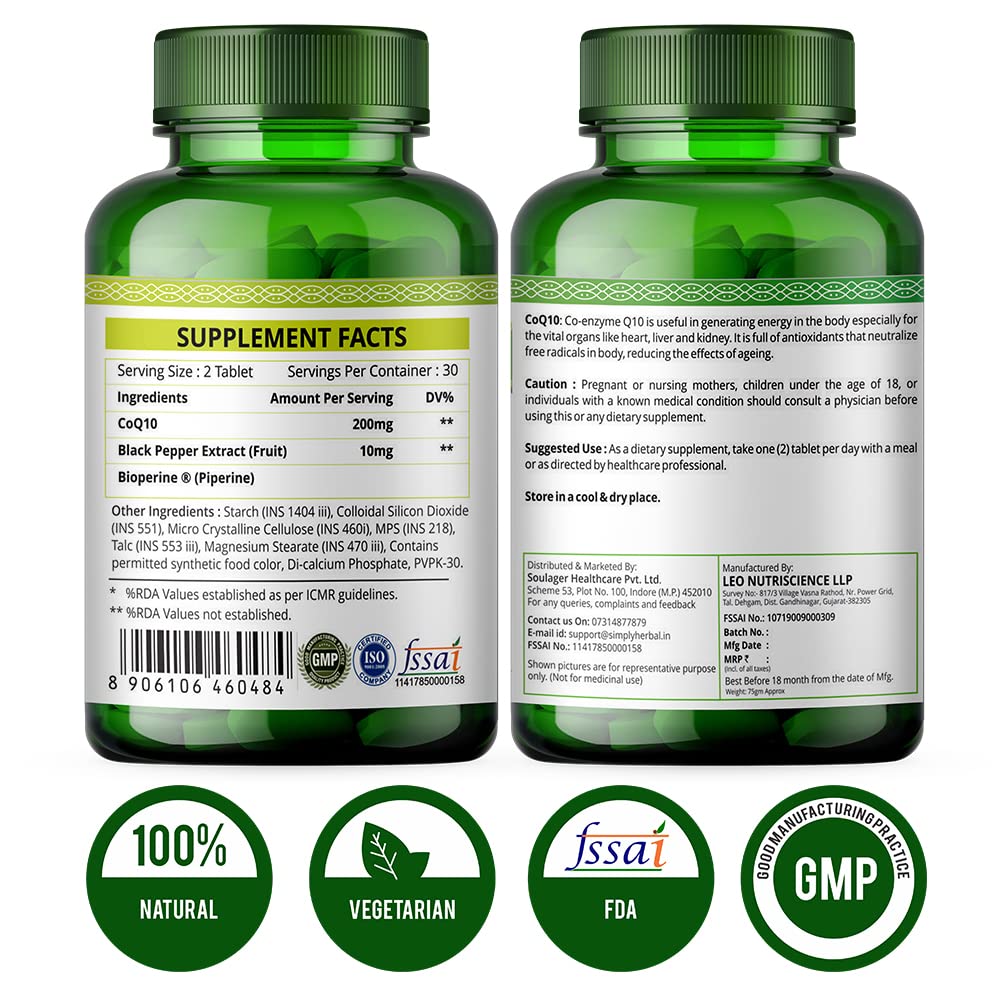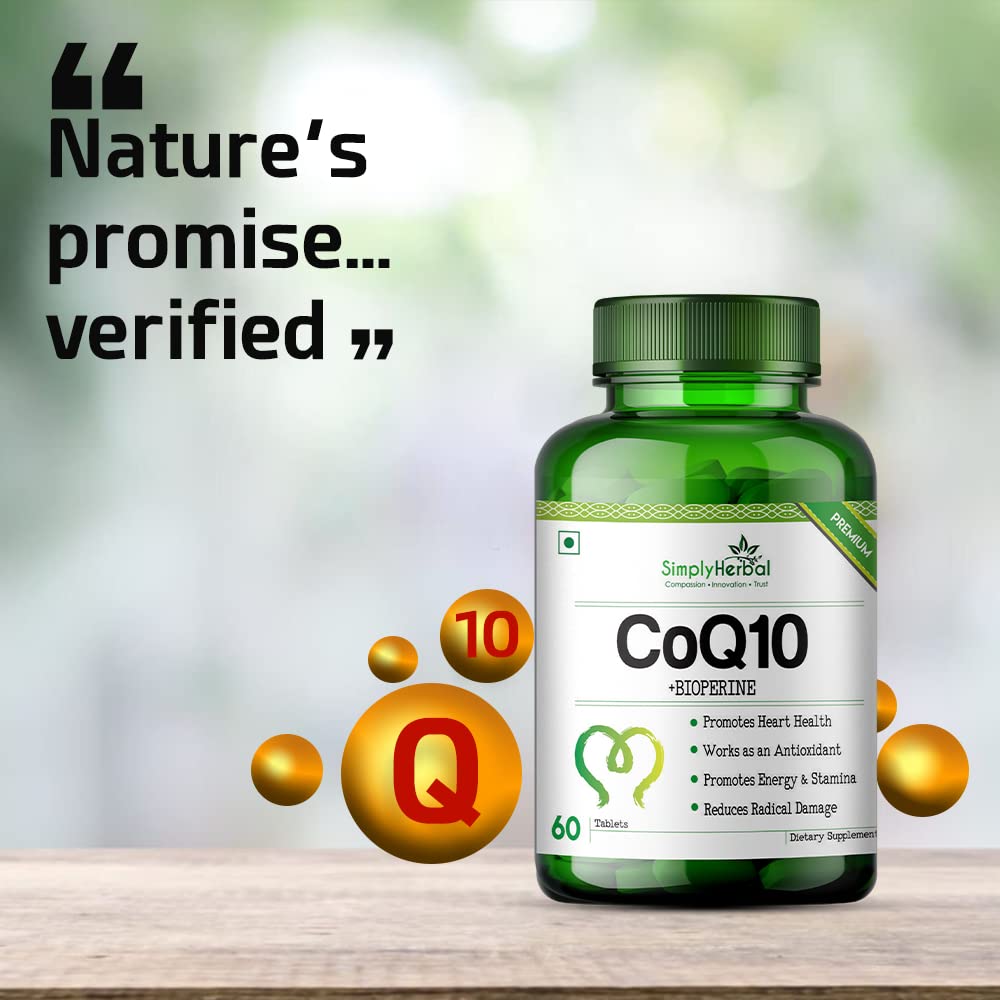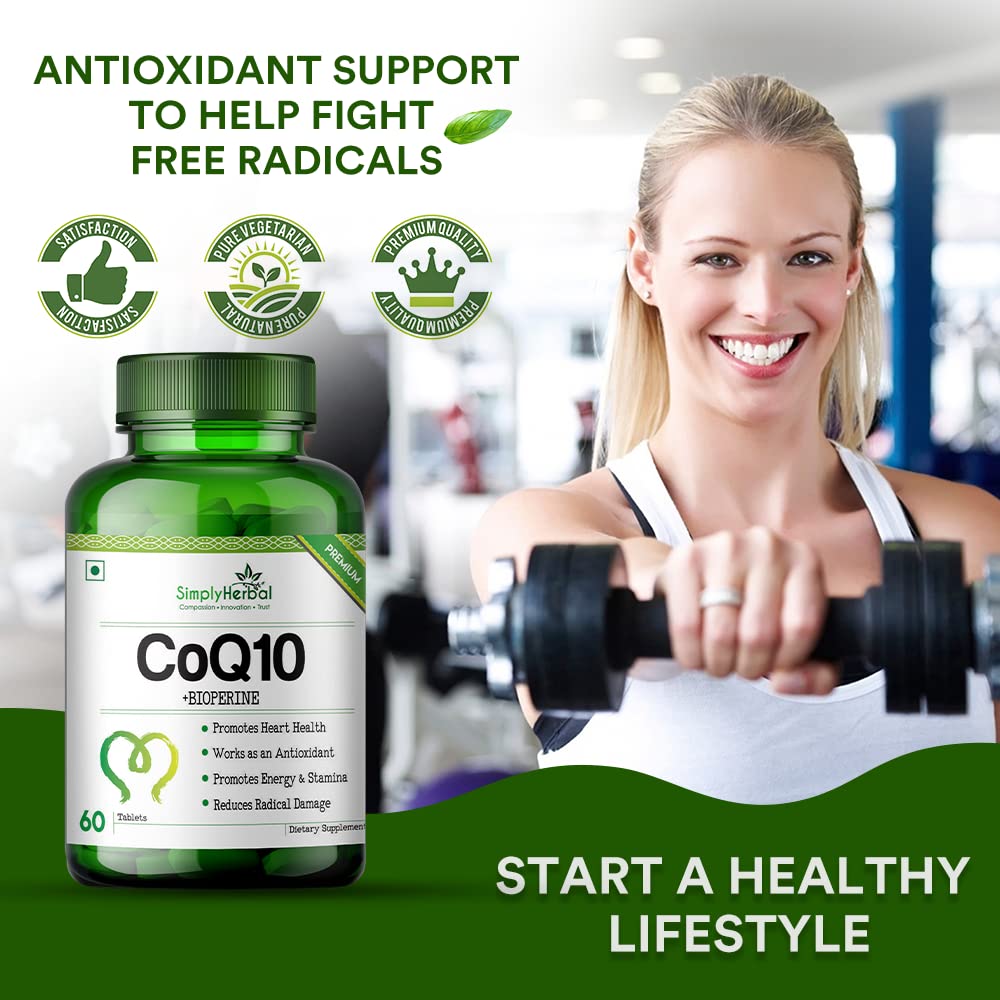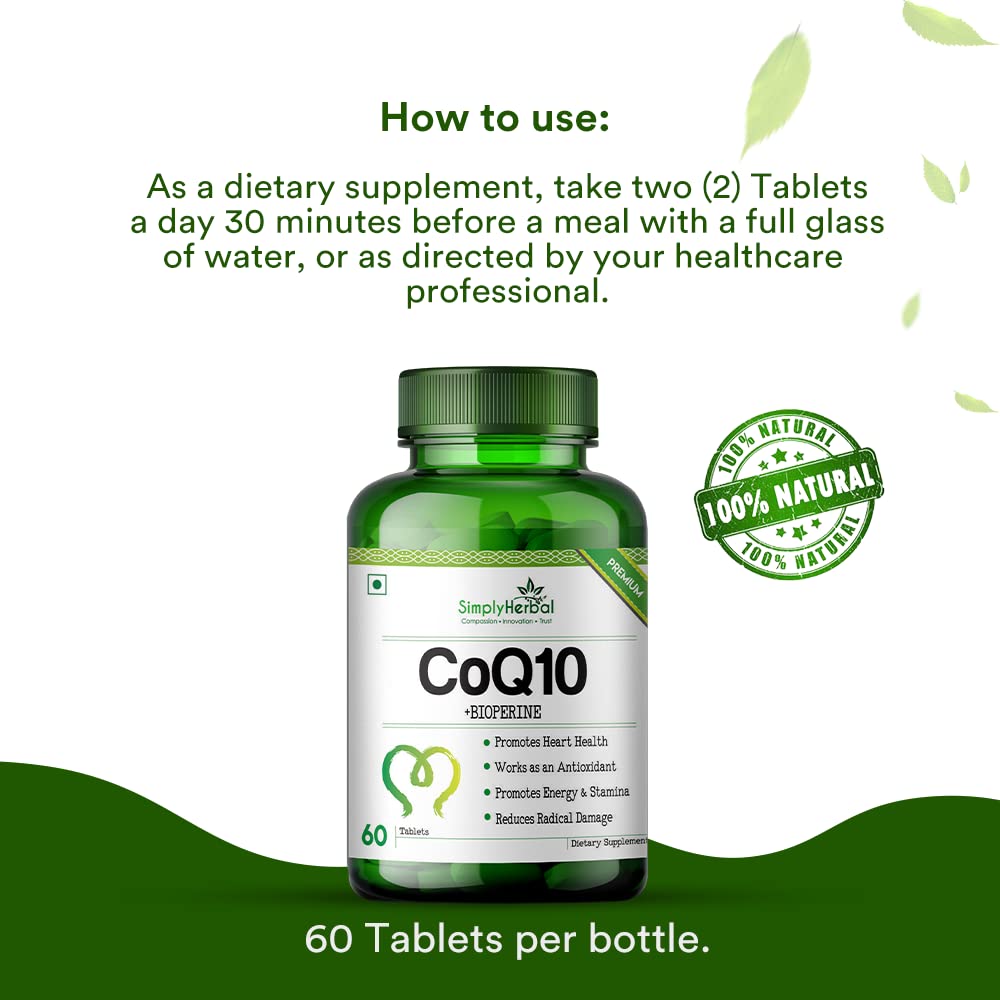 PRODUCT DETAIL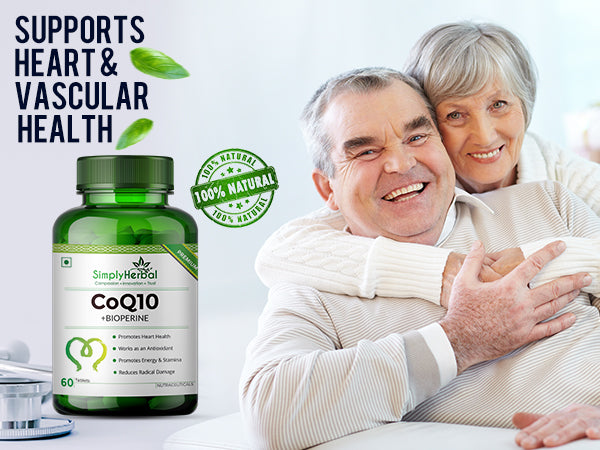 COQ10 +Bioperine
Simply Herbal CoQ10 Natural Coenzyme Q10 Tablets 200mg with Bioperine Antioxidant Supplements, Provide Superior Absorption, Supplement for Heart Health and Energy Metabolism - 60 Tablets
Coenzyme Q10 is used for Heart Health
Enhances Energy Metabolism
Enhanced Absorption with Bioperine
Support Skin Health and Promote a Youthful Appearance.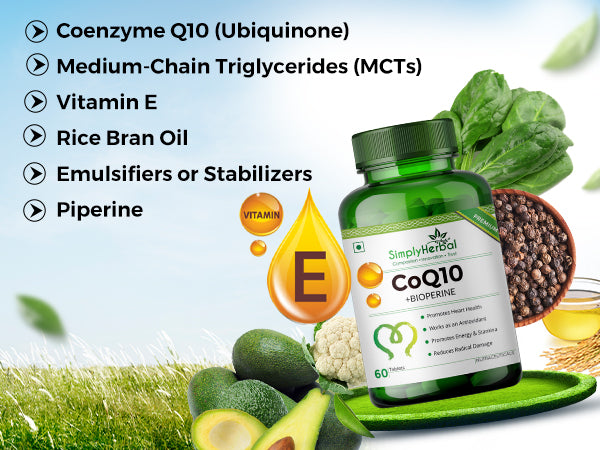 Why Simply Herbal CoQ10 Natural Coenzyme Q10 Tablets?
Simply Herbal CoQ10 Natural Coenzyme Q10 Tablets are expertly designed to promote heart health and enhance energy metabolism. These tablets boast superior absorption and the additional advantages of Bioperine, making them an easy and efficient method of incorporating Coenzyme Q10 into your daily regimen. By selecting Simply Herbal, you can have confidence in investing in a scientifically supported, top-quality product that aims to optimize your overall well-being.
Benefits
Coenzyme Q10 is used for Heart Health

Coenzyme Q10 is renowned for its beneficial effects on cardiovascular well-being. Each Simply Herbal CoQ10 Tablet provides a potent 200 mg of CoQ10, supporting a healthy heart and cardiovascular health.

Enhances Energy Metabolism

Coenzyme Q10 supplement is essential for ATP production, the primary cellular energy source. Incorporating Simply Herbal CoQ10 Tablets into your daily routine can support your body's energy metabolism, potentially boosting vitality and endurance.

Enhanced Absorption with Bioperine

Simply Herbal CoQ10 Tablets are fortified with Bioperine, a proprietary extract from black pepper. Bioperine improves the absorption of Coenzyme Q10, maximizing the benefits and optimizing your CoQ10 supplementation.

Coenzyme Q10 for the skin

As a powerful antioxidant, it helps protect skin cells from free radical damage. By incorporating Simply Herbal CoQ10 tablets into your daily routine, you can support skin health and promote a youthful appearance
Key Ingredients
Coenzyme Q10

Each Tablet Contains a Potent 200mg of Coenzyme Q10, a Natural Compound Found in Every Body Cell. COQ10 Supports Energy Production and Acts as a Powerful Antioxidant, Protecting Cells From Oxidative Stress.

Bioperine

These Tablets Are Enriched With Bioperine, a Standardized Extract Derived From Black Pepper. Bioperine Enhances the Bioavailability of Coenzyme Q10, Ensuring Optimal Absorption and Utilization by the Body.
How To Use
Step-1

Consume One Tablet of Simply Herbal Coq10 Natural Coenzyme Q10 With a Glass of Water.
Step-2

For Improved Absorption, It is Recommended to Take It With a Meal.
Step-3

To Achieve the Best Outcomes, Adhere to the Suggested Dosage Stated on the Packaging or Consult a Healthcare Professional for Guidance.
Safety
Before Taking Any New Supplement, Consult a Physician, Especially if You Have a Pre-existing Condition or Are Taking Medication.
Adhere to the Recommended Dosage and Make Sure the Product is Kept Out of the Reach of Children.
Keep the Product in a Cool, Dry Place and Protect It From Direct Sunlight.
In Case of Occurrence of Side Effects or Allergies, Stop Using the Product Immediately and Consult a Doctor.