Regular price
Rs. 999
Sale price
Rs. 699
Unit price
per
30% OFF
Sold out
Supports Muscle Strength

Supports Healthy Joints

Supports Healthy Bones

Supports Antioxidants
Please hurry! only left in stock
100% Secure Transaction
Free Shipping
Easy Return Policy
Extra 10% Off Prepaid Order
FREE delivery : Metro cities delivery in 2-3 days
Order within
View full details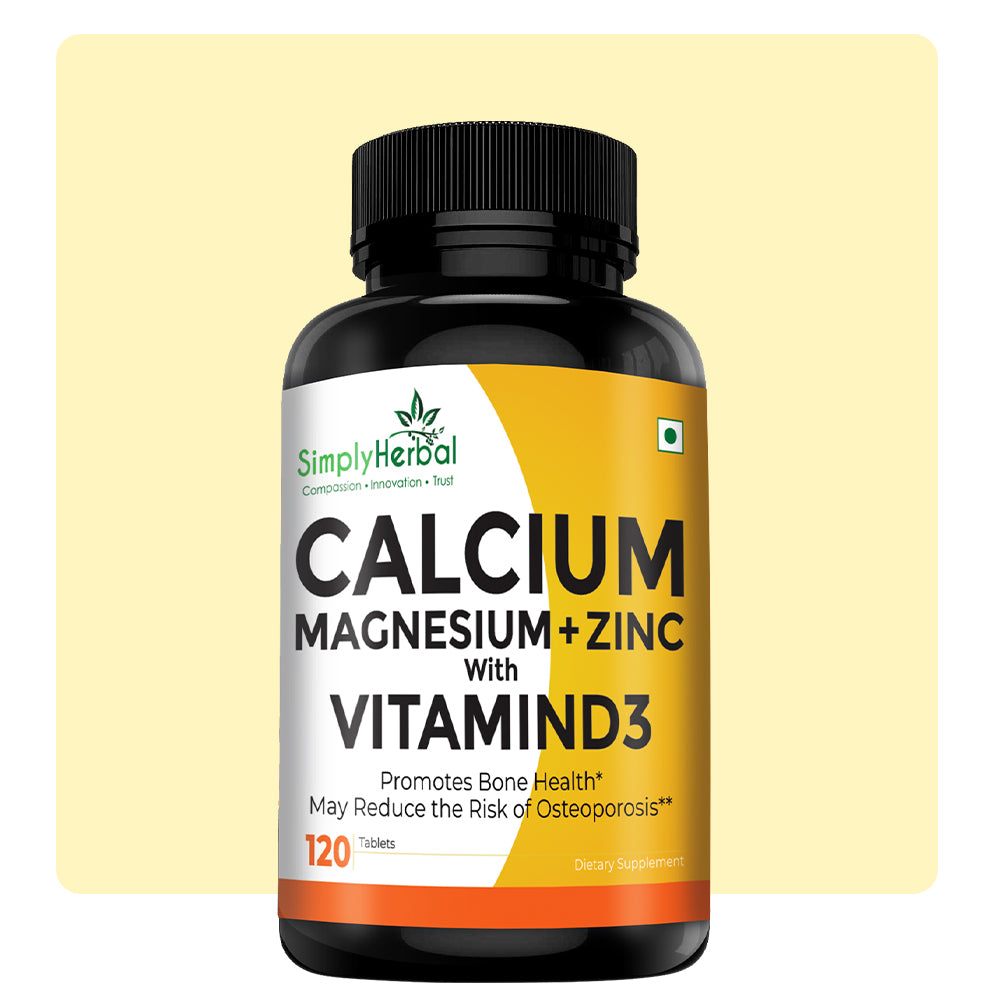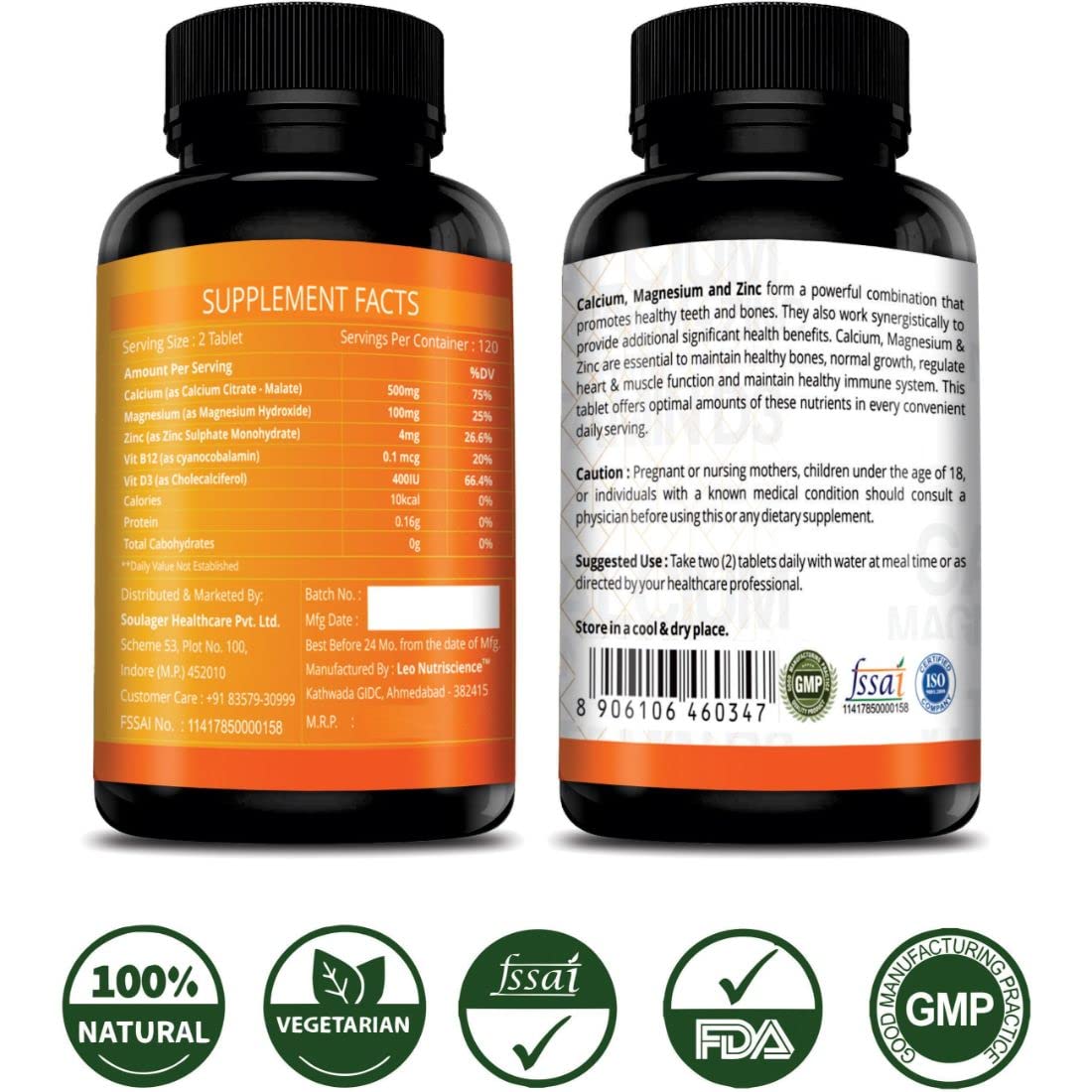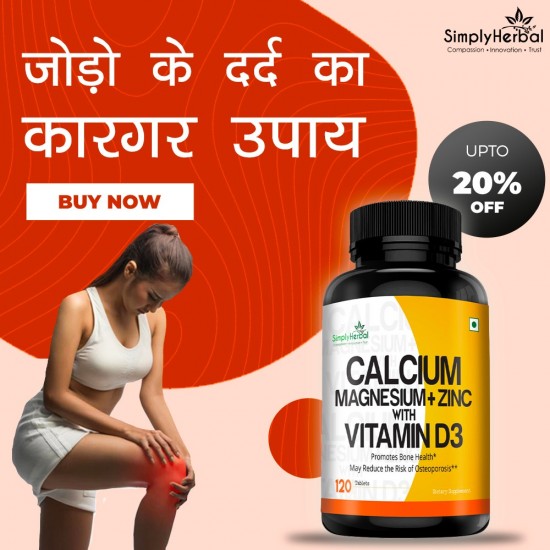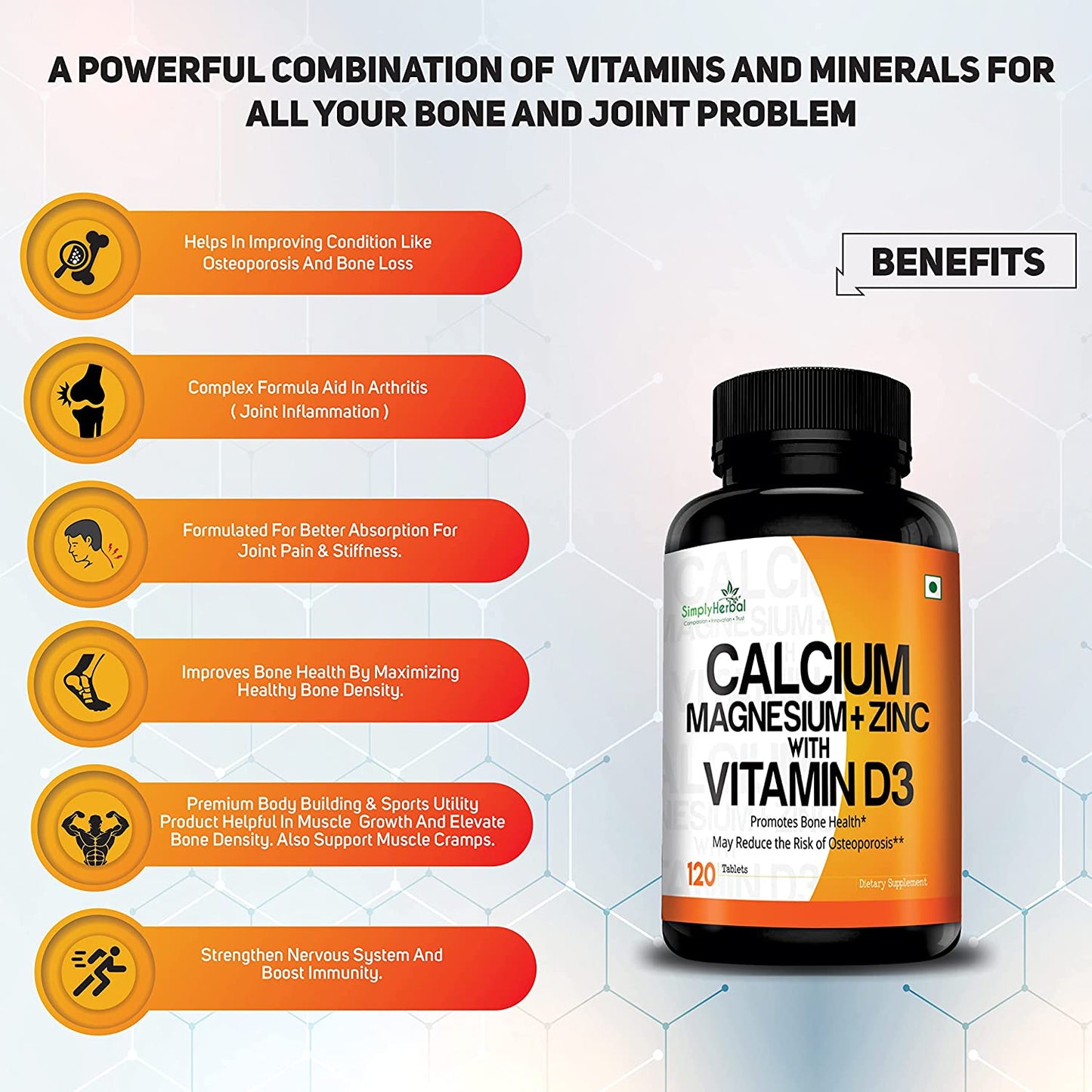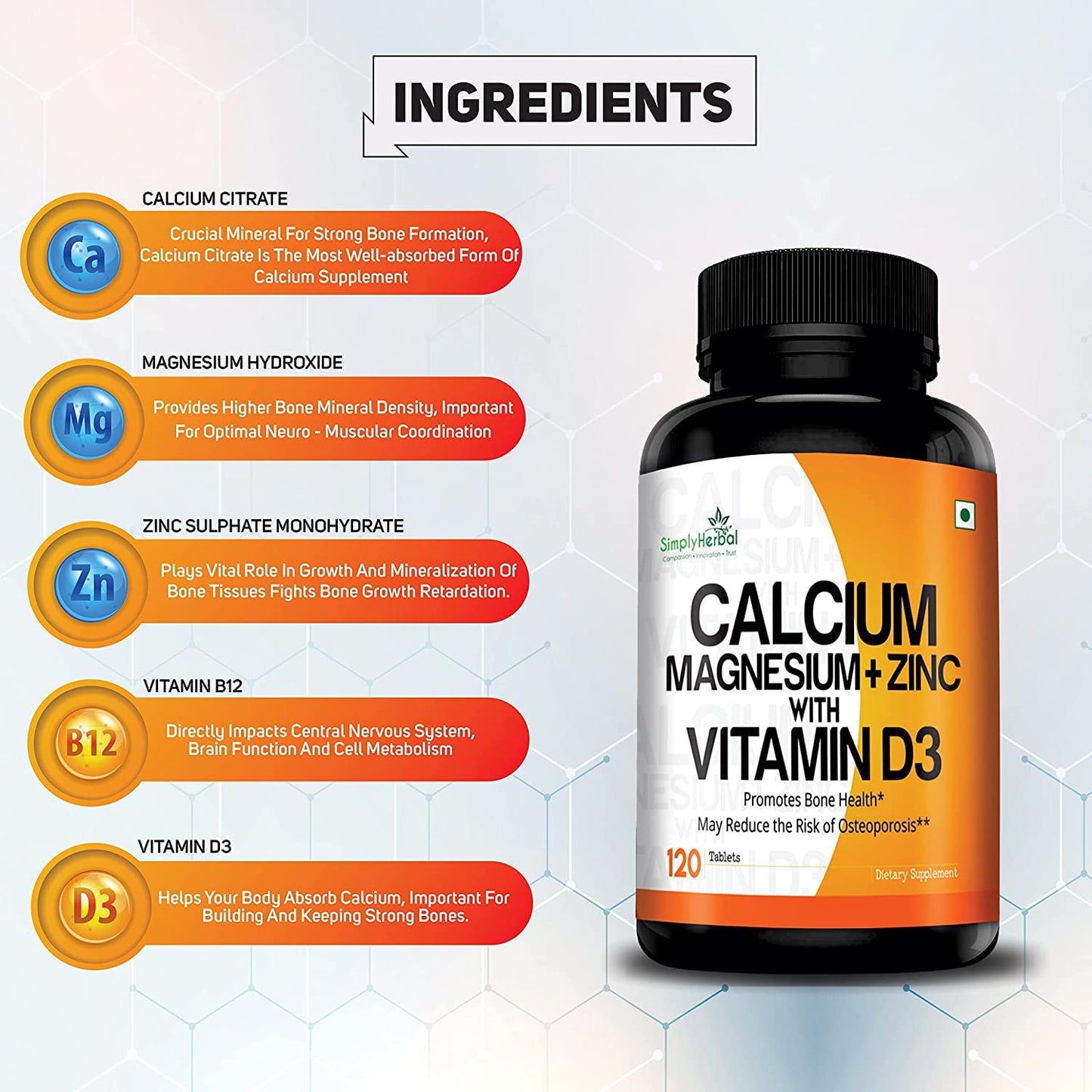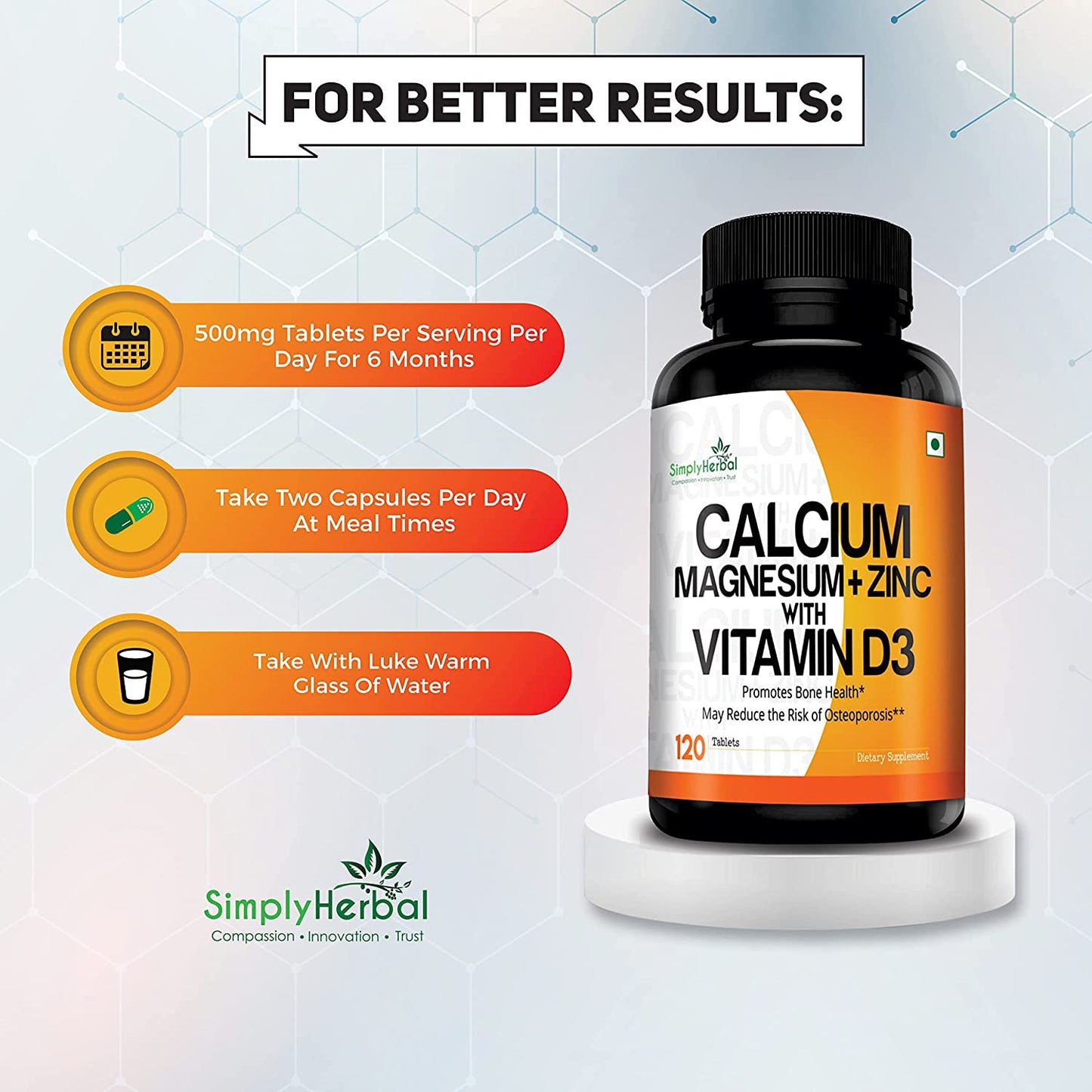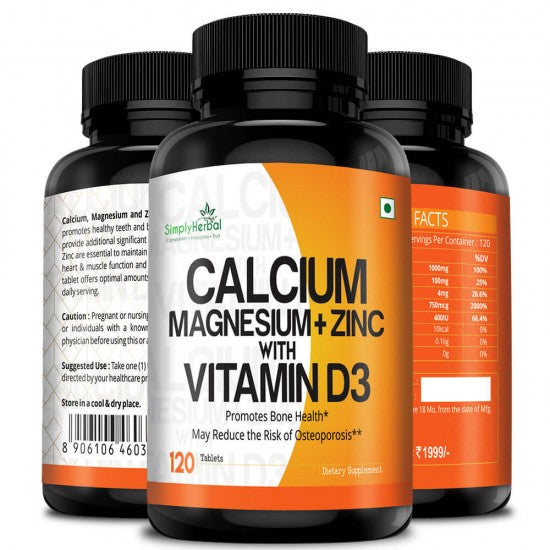 WHY CHOOSE CALCIUM MAGNESIUM ZINC VITAMIN D3?
Welcome to Simply Herbal, your dedicated sanctuary for holistic well-being. Here, we unveil the extraordinary benefits of our meticulously crafted Calcium Magnesium Zinc Vitamin D3 Supplement Tablet, an exquisite fusion designed for both men and women. This formulation harmonizes essential nutrients to choreograph a symphony of bone density, muscle growth, and comprehensive bone health. Crafted as a guardian of bone density and health, our supplement fortifies your skeletal framework, while a mineral blend nurtures muscles, bestowing endurance and strength.
PRODUCT DETAIL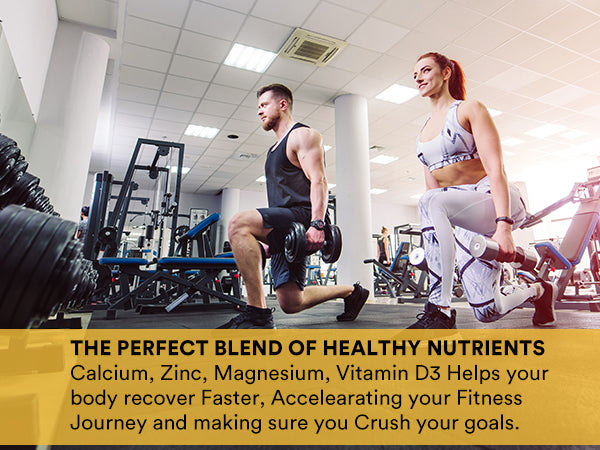 Calcium Magnesium Zinc Vitamin D3 With Vitamin B12
Enriched with Vitamin B12, it infuses vitality into every facet of your being. A defender against bone loss, this supplement becomes your companion on a journey to an active, vibrant life. Place your trust in Simply Herbal's embodiment of health and vitality, encapsulated in 120 Tablets.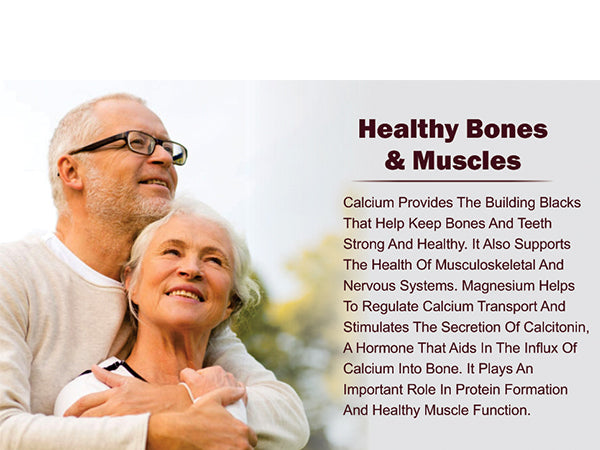 Bone Density, Muscle Growth & Nerve Function Helps to Fight Bone Loss for Men & Women
an invitation to unlock a universe of wellness, revealing nature's alchemy that transforms bones and muscles, igniting a fresh zest for life's grandeur. While these statements aren't evaluated by the FDA, they offer a guiding star on your wellness path. Consult your healthcare professional before embracing this elixir, for your well-being is a symphony, and we are a humble note within its composition.
Key Ingredients
Calcium

Essential for strong bones and teeth, calcium supports overall skeletal health.

Magnesium

A vital mineral that aids in bone formation, muscle function, and energy production.

Zinc

Important for immune function, wound healing, and overall cellular health.

Vitamin D3

Facilitates calcium absorption and supports bone health, immune function, and mood regulation.
Benefits
Bone Health

This supplement provides essential nutrients like calcium, magnesium, zinc, and vitamin D3, which contribute to strong and healthy bones, supporting overall skeletal wellness.

Muscle Function

The combination of magnesium and zinc aids in proper muscle contraction and relaxation, promoting optimal muscle function and endurance.

Immune Support

Zinc and vitamin D3 are known for their roles in supporting a healthy immune system, helping your body defend against common infections and illnesses.

Nutrient Synergy

The harmonious blend of calcium, magnesium, zinc, and vitamin D3 in this supplement creates a synergistic effect that promotes overall well-being, supporting various bodily functions and maintaining health.
Usage
Take as Directed:

Consume the recommended dosage as indicated on the product label.
With Meals:

Preferably, take the tablet with a meal for better absorption and digestion.
Stay Hydrated:

Ensure adequate water intake while using the supplement.
Consult Professional:

If you have specific health concerns or conditions, consult a healthcare provider before starting any new supplement regimen
Maximize Outcomes Stay Committed
Best Result Require at Least 3 Months

Important to Adopt a Healthy Lifestyle

Stay Well Hydrated by Drinking Water