Regular price
Rs. 1,299
Sale price
Rs. 799
Unit price
per
38% OFF
Sold out
Heart Health

Improve Joint Function

Reduce Muscle Damage

Good For Skin
Please hurry! only left in stock
100% Secure Transaction
Free Shipping
Easy Return Policy
Extra 10% Off Prepaid Order
FREE delivery : Metro cities delivery in 2-3 days
Order within
View full details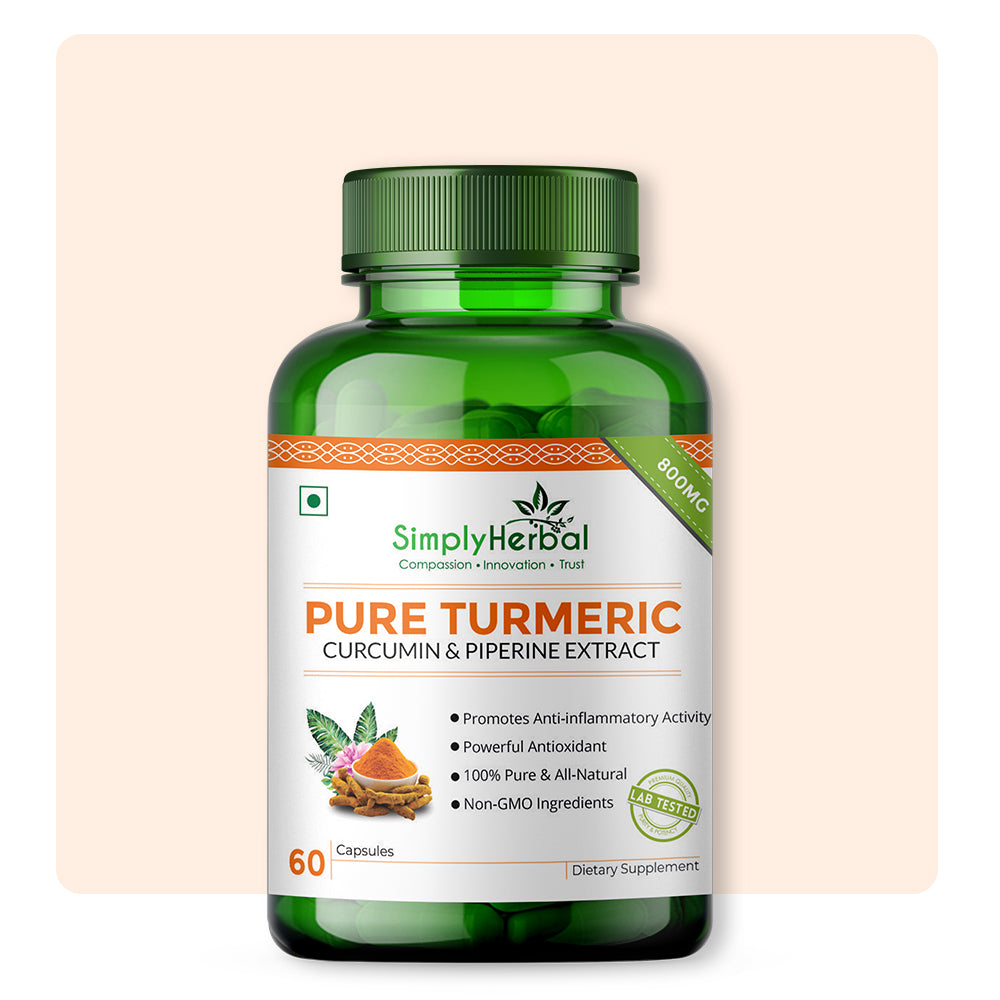 PRODUCT DETAIL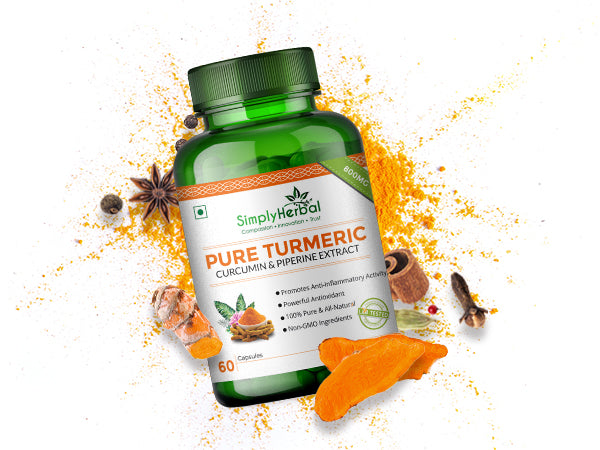 Pure Turmeric Curcumin With Piperine Extract
Simply Herbal Turmeric Curcumin Extract Supplement With Piperine (Black Pepper and 95% Curcuminoids) Promotes Joint Health, Skin Health and Support Immunity - 60 Capsule. Effective Ingredients: Turmeric is Arguably One of the Most Powerful Herbs on the Planet; Curcumin Specifically, is One of the Primary Compounds in Turmeric Powder, Has Been Reported to Be One of the Most Advantageous Herbs, Making Turmeric Curcumin a Nutrient Rich Powerhouse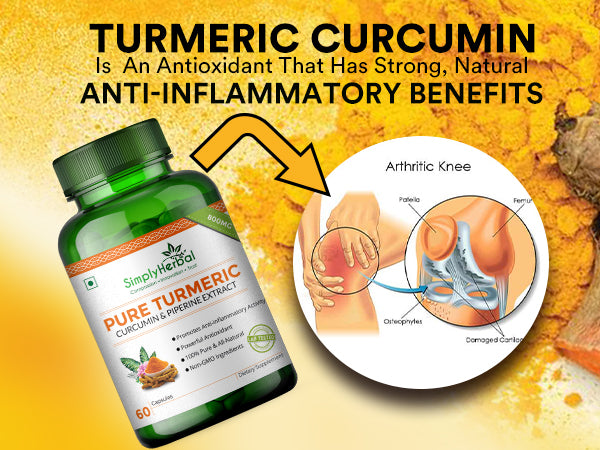 THE POWER OF CURCUMINOIDS
Turmeric Provides One of Nature's Best Kept Secrets, Curcuminoids, a Group of Antioxidants That Supports Healthy Inflammation Response Associated With Physical Overexertion. 𝐒𝐔𝐏𝐏𝐎𝐑𝐓𝐒 𝐇𝐄𝐀𝐋𝐓𝐇𝐘 𝐈𝐍𝐅𝐋𝐀𝐌𝐌𝐀𝐓𝐈𝐎𝐍 𝐑𝐄𝐒𝐏𝐎𝐍𝐒𝐄 𝐀𝐍𝐃 𝐉𝐎𝐈𝐍𝐓 𝐇𝐄𝐀𝐋𝐓𝐇: Get Moving! Simply Herbal Turmeric Supports Healthy Inflammation Responses Associated With Physical Overexertion and Can Also Help Promote Joint Comfort.
Why Simply Herbal Pure Turmeric Capsule?
With Bioperine for Best Absorption: Bioperine, a Patented Black Pepper Extract Has Been Shown to Improve the Absorption of Many Herbs and Spices; Our Turmeric Curcumin Extract With Bioperine Black Pepper Supplement Provides as Much as 2000x Better Absorption Than Consuming Normal Turmeric Capsules Alone. NATURAL; NON-GMO; VEGAN: Our Turmeric With Ginger Capsules Are Formulated With Natural Ingredients; the Turmeric Pills Contain No Gmo Ingredients, Hormones, Preservatives, Artificial Ingredients, Fillers, Binders, Antibiotics, Gluten, Sugar, Soy, Yeast, Milk Egg, Corn, Peanuts, Magnesium Stearate, and Absolutely No Side Effects. The Capsules Are Vegan/vegetarian.
Key Ingredients
Pure Turmeric Curcumin

Good for Skin & Joint Pains | Improve Heart Health

Organic Ginger

Reduce Inflammation | Immunity Boosters | Powerful Antioxidants

Piperine Extract

Better Absorption | Potent Antioxidant and Anti-inflammatory Properties
Benefits
Joint Support Supplement

Specially Formulated Our Turmeric Curcumin to Help to Support Your Joint Function and Reduce Occasional Discomfort in Your Knee, Shoulder, Hip, Back Bone and Other Joints.

Ton of Antioxidants

Curcumin is a Potent Antioxidant That Can Neutralize Free Radicals Due to Its Chemical Structure. Curcumin is a Potent Antioxidant That Can Neutralize Free Radicals Due to Its Chemical Structure.

Anti-inflammatory Properties

Turmeric's Main Active Component — Curcumin — is What Gives the Spice Its Yellow Color. Curcumin Has Anti-inflammatory Properties, Making It a Potential Treatment for a Number of Health Conditions

Support Brain Health

A Compound in Turmeric — (Curcumin) the Spice That Gives Curry Its Golden Color — Could Help to Promote Your Brain Health and Memory in Older Adults.
How to Use
Take 1 Capsule daily after the meal with luke warm water or as directed by your healthcare professional.
Maximize Outcomes Stay Committed
Best Result Require at Least 3 Months

Important to Adopt a Healthy Lifestyle

Stay Well Hydrated by Drinking Water