Regular price
Rs. 799
Sale price
Rs. 599
Unit price
per
25% OFF
Sold out
SUPPORT CELL HEALTH

BRAIN FUNCTION

BEAUTY HAIR, SKIN & NAILS

BOOST ENERGY
Please hurry! only left in stock
100% Secure Transaction
Free Shipping
Easy Return Policy
Extra 10% Off Prepaid Order
FREE delivery : Metro cities delivery in 2-3 days
Order within
View full details
Why Choose Simply Herbal Plant-based Collagen Builder Capsules 1000mg?
Welcome to Simply Herbal, your holistic well-being hub, where our meticulously crafted Plant Based Collagen Builder Capsules, enriched with Vitamin C and White Kidney Beans, offer a natural and transformative solution for healthier hair, radiant skin, stronger nails, and fortified bones and joints. Illuminate your inner beauty with glowing skin, fortified hair, and resilient nails as our formula synergizes nature's benefits. Elevate your vitality with Simply Herbal's 60 Veg Capsules, a harmonious blend of nature and science. Embrace this journey to a healthier, radiant you, and make your well-being a priority with Simply Herbal today.
PRODUCT DETAIL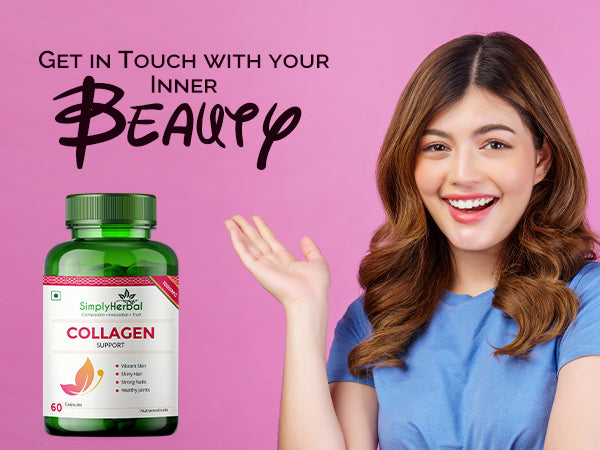 PROMOTE HEALTHY SKIN, HAIR, NAILS
Collagen is the main protein that gives our skin elasticity. A collagen boost can help promote hair health, nail Health and support healthy looking skin.

𝐈𝐌𝐏𝐑𝐎𝐕𝐄𝐒 𝐖𝐑𝐈𝐍𝐊𝐋𝐄𝐒 𝐀𝐍𝐃 𝐅𝐈𝐍𝐄 𝐋𝐈𝐍𝐄𝐒
Boost the General Health of Your Skin to Look and Feel Younger. By Preserving the Flexibility and Hydration of Your Skin, This Ingredient Relieves Scars.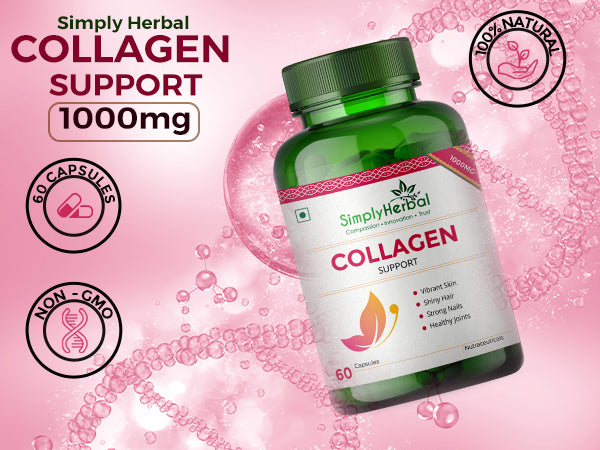 Why is It Important?
Reduction in Collagen Protein Leads to Weaker Bones, Fragile Nails, Brittle Hair, and Dry Skin. Simply Herbal's Plant Based Collagen Pill Helps You Restore Youthful Skin, Hair, Nails, Bones, Tendons, Joints, and Gut Health. Perfectly Balanced Supplement for All Your Beauty Needs. Collagen is Found in All of Our Connective Tissues, Tendons, Ligaments and Bones With Its Purpose Being to Provide These Body Parts With Their Strength, Structure and Elasticity.
Key Ingredients
Vitamin C

Maintain Bones, Cartilage, Skin & Blood Vessel

White Kidney Beans

Healthy Energy Levels and Cognitive Function
Benefits
Healthy Hair

Our Plant-Based Collagen Builder Capsules, enriched with Vitamin C and White Kidney Beans, nurture hair health from within, promoting strong, vibrant, and lustrous locks.

Glowing Skin

Experience the radiance of revitalized skin as our collagen-boosting formula, powered by Vitamin C and White Kidney Beans, contributes to a luminous and youthful complexion.

Strong Nails

Elevate your nail game with the goodness of our plant-based collagen builder. Enjoy the benefits of strengthened and resilient nails, free from brittleness.

Bones & Joints Support

Beyond beauty, our capsules, fortified with Vitamin C and White Kidney Beans, aid in strengthening bones and joints, enhancing overall mobility and vitality.
Usage
Daily Routine:

Incorporate two capsules into your daily regimen for optimal results.
Consistency Matters:

To experience the full benefits, take consistently over time.
With Meals:

Take capsules with meals for better absorption and digestion.
Stay Hydrated:

Support nutrient utilization by drinking plenty of water daily.
Maximize Outcomes Stay Committed
Best Result Require at Least 3 Months

Important to Adopt a Healthy Lifestyle

Stay Well Hydrated by Drinking Water
Safety Precautions
Consult a Healthcare Expert Before Adding Any New Supplement, Including Simply Herbal Collagen Builder Capsules, to Your Routine.
If You Have Pre-existing Health Conditions or Are on Medications, Seek Medical Guidance Before Use.
Stick to the Recommended Dosage Mentioned on the Packaging or Advised by a Healthcare Professional.
Individuals With Known Allergies to Ingredients Should Exercise Caution and Consult a Medical Professional Before Consumption.