Regular price
Rs. 999
Sale price
Rs. 499
Unit price
per
50% OFF
Sold out
Powerful Antioxidant

Supports Weight-loss

Improves Digestion

Promotes Skin Health
Please hurry! only left in stock
100% Secure Transaction
Free Shipping
Easy Return Policy
Extra 10% Off Prepaid Order
FREE delivery : Metro cities delivery in 2-3 days
Order within
View full details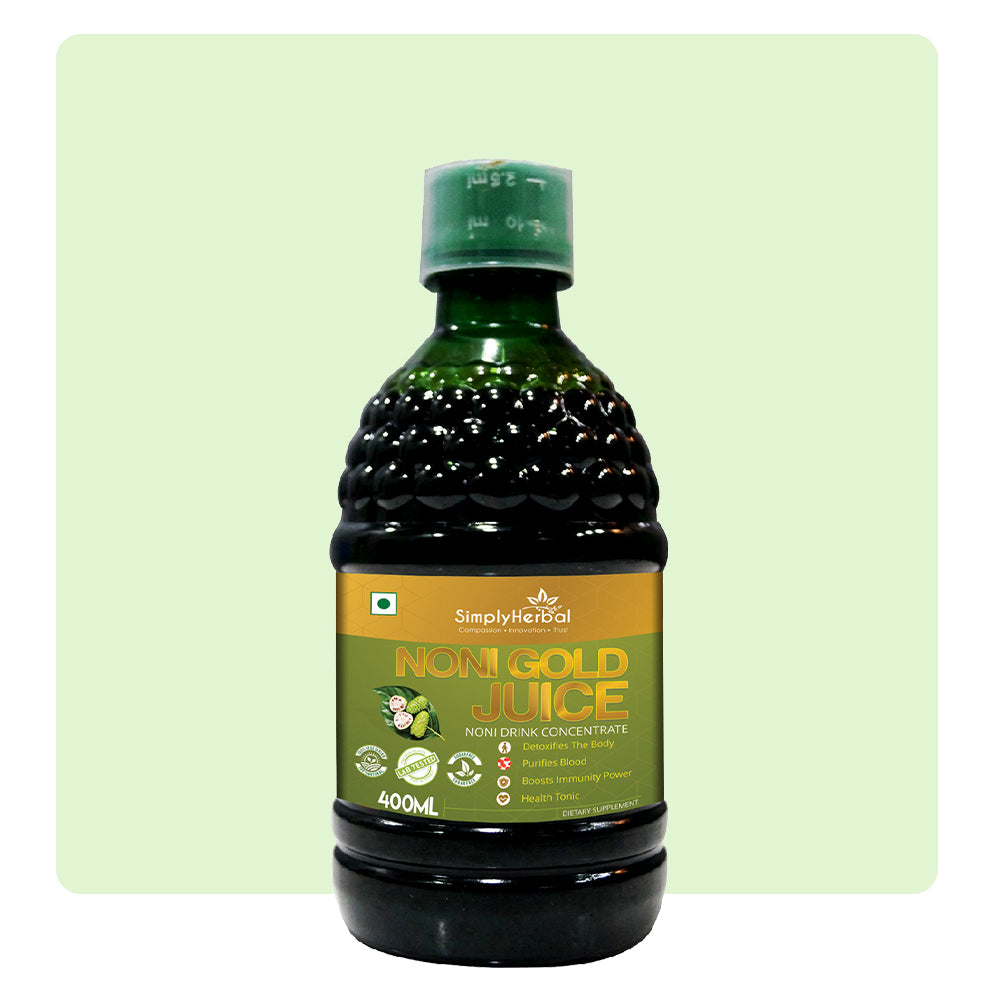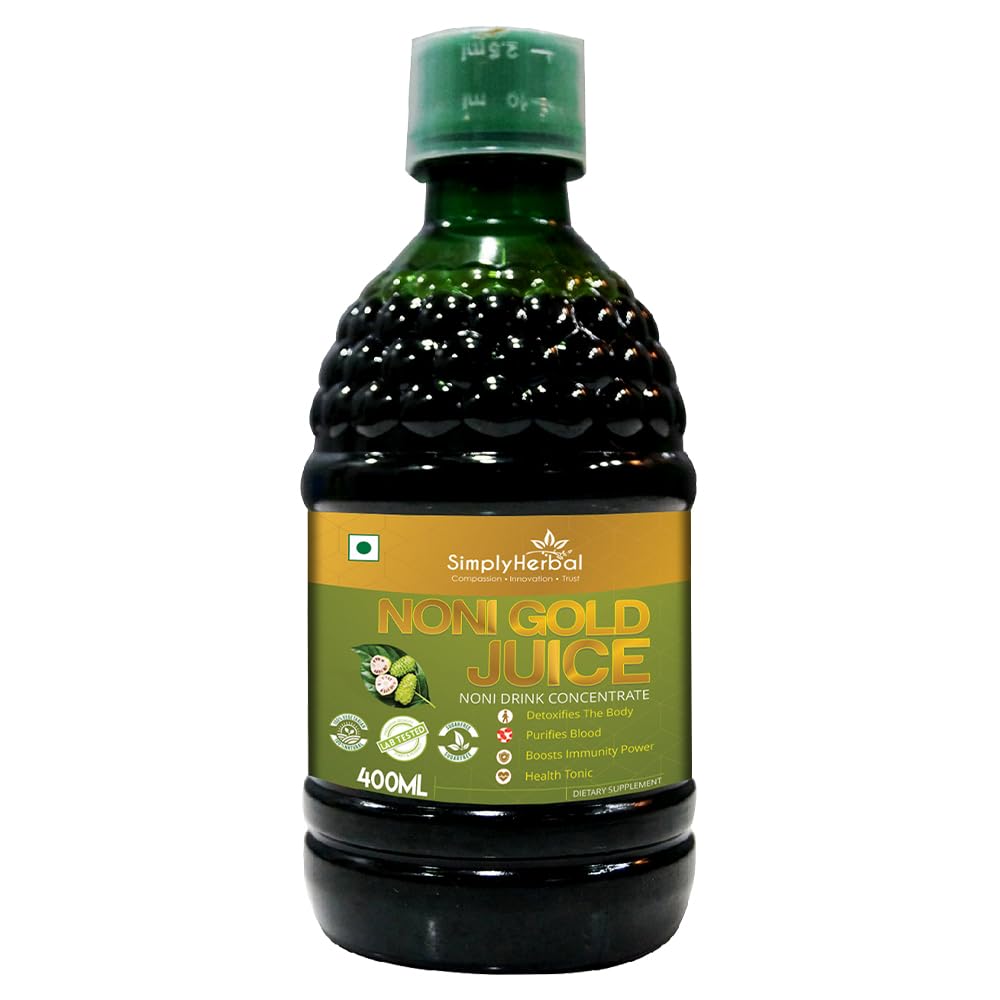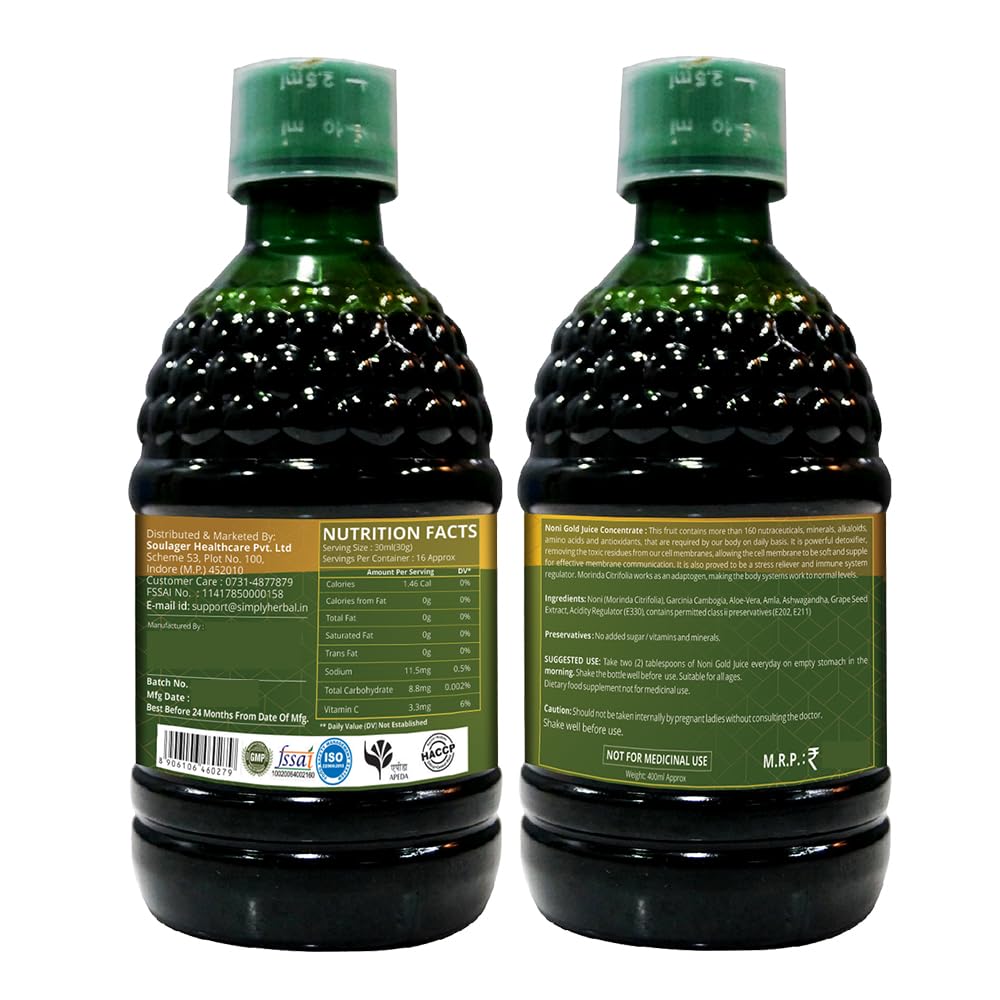 PRODUCT DETAIL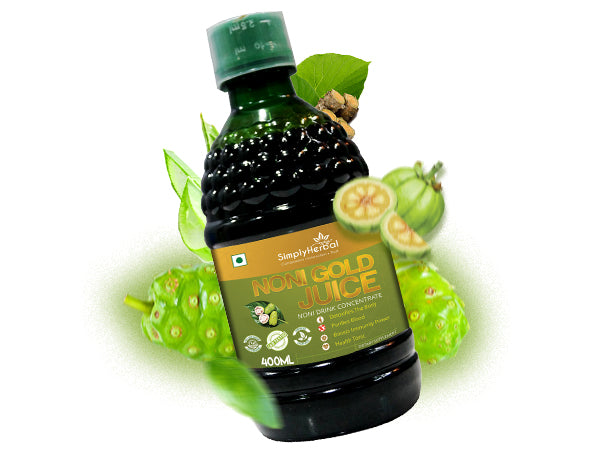 Blood Purifier Syrup / Enhance Immunity
Noni Juice Pure Purifies the Blood and Stimulates the Immune System, Noni Juice is for Loose Weight, Protecting From Toxins and Pollutants, and Also Noni Juice for Diabetes. Relieves Pain Accumulated Due to Stress and Anxiety. Noni Juice Concentrated Helps to Protect the Nervous System.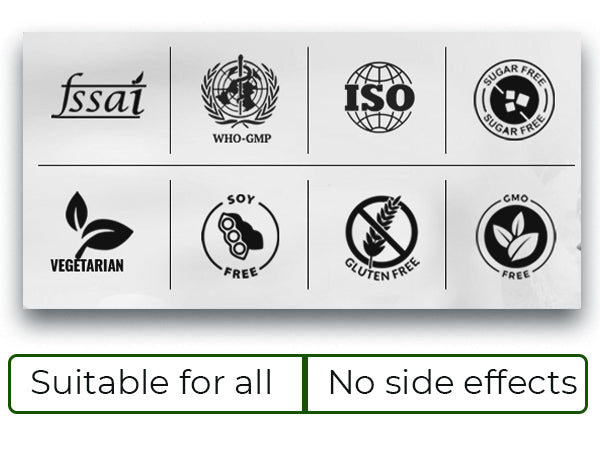 Noni Drink Concentrate
Noni Juice Herbal 400 Ml is Also a Popular Health Tonic and is Packed With Nutrients, Improves Memory, Concentration, and Focus, and Restores Energy. It Improves Digestion and the Quality of Blood in the Body. Our Product is Made With Extracts of Garcinia Cambogia, Amla, Aloe Vera, Ashwagandha, and Grape Seed Extract Ingredients in Appropriate Amounts. Together This Will Deliver a Safe, Effective, Convenient, and All-natural Weight Management Supplement.
Why Choose Simply Herbal Noni Gold Juice?
Noni Juice Concentrate Detoxifies the Body, Maintains Healthy Skin and Hair, Relieves Pain and Inflammation in Joints, and Purifies the Blood. Noni Juice for Weight Loss Offers a Gamut of Healthful Vitamins, Minerals, and Other Phytonutrients to Improve the Body's Overall Functioning. Cleanses the Skin From Deep Inside, Removes Free Radicals and Toxins, and Improves Acne, Skin Rash, and Other Minor Skin Conditions. Noni Helps to Improve the Body's Self-healing Mechanism.
Benefits
Boosts Immune System

With the Great Immune Booster, strengthen your defenses. Just take Simply Herbal supplements that include antioxidants and vitamin C to defend yourself against dangerous health issues. Your body's immunological reaction will be enhanced.

Improves Digestion System

Improved digestion and blood quality are two benefits of Simply Herbal Noni Juice. Noni juice is cellular nourishment. Healthy cells result in healthy tissues, organs, bodily systems, and the overall body.

Reduces Inflammation & Releases Stress

Noni Juice Premium Rejuvenates the Body by Revitalizing the Cells, Thereby Improving Every Unit's Performance. Helps in Blood Sugar Control and Has Cholesterol-lowering Properties. Tones Skin, Tightens Pores and Makes Them Smaller.

Weight Management

It is a Weight Management Supplement That Promotes a Healthy Weight and Metabolism. Noni Juice is for Loose Weight, Protecting From Toxins and Pollutants, and Also Noni Juice for Diabetes.
How to Use
Take 2 Tablespoons of the Simply Herbal Noni Gold Juice Every Day on Empty Stomach in the Morning.
Maximize Outcomes Stay Committed
Best Result Require at Least 3 Months

Important to Adopt a Healthy Lifestyle

Stay Well Hydrated by Drinking Water