Simply Herbal Hair Vitamin Gummies with Biotin, Keratin & Vitamin A, C, D, E, B5, B6, B12 -30 Gummies
Simply Herbal Hair Vitamin Gummies with Biotin, Keratin & Vitamin A, C, D, E, B5, B6, B12 -30 Gummies
Regular price
Rs. 2,199
Sale price
Rs. 699
Unit price
per
68% OFF
Sold out
Reduces Hair Fall

Improves Hair & Nail Texture

Provides Essential Hair Vitamins

Promotes Hair & Nail Strength
Please hurry! only left in stock
100% Secure Transaction
Free Shipping
Easy Return Policy
Extra 10% Off Prepaid Order
FREE delivery : Metro cities delivery in 2-3 days
Order within
View full details
PRODUCT DETAIL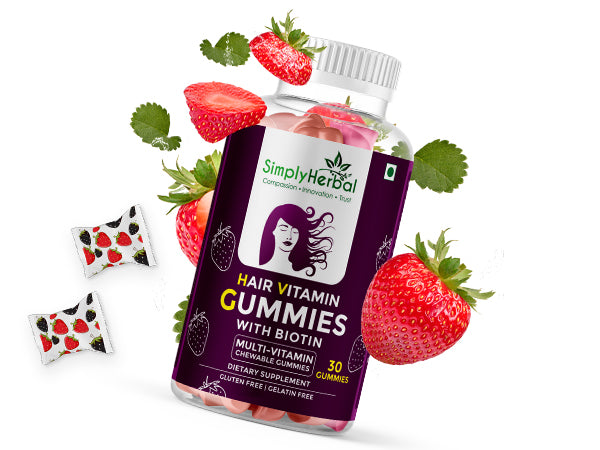 Hair Vitamin Gummies With Biotin
Simply Herbal Biotin Hair Gummies for Stronger Nails & Nourished Hair | Enriched With Biotin, Keratin, Vitamin A, C, D, E, B5, B6, B12 | Keeps Hair Healthy & Strong, Multivitamins Gummy (30 Gummies)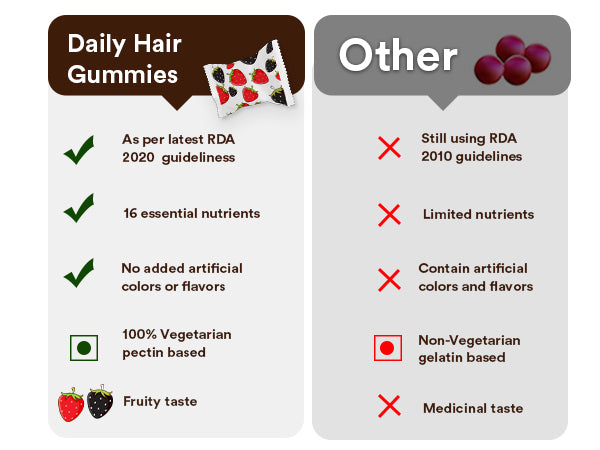 7+ MULTIVITAMINS
These cute hair gummy vitamins with biotin loaded with Vitamin A, C, D, E, B6, B12, B3, Folic Acid, Keratin, Zinc, Iodine & more! HEALTHY HAIR, SKIN & NAILS - These premium hair vitamins gummies with biotin deliver the highest potency and most effective of biotin, supporting hair health, healthier skin & stronger nails. As one of several B vitamins, it supports a healthy metabolism, working as a coenzyme to help break down food, including carbohydrates, fats & protein!
Why to choose Simply Herbal Biotin Hair Vitamin Gummies?
Elevate your beauty regimen with Simply Herbal Biotin Hair Gummies. Enriched with potent ingredients like Biotin, Keratin, and essential Vitamins (A, C, D, E, B5, B6, B12), these gummies offer comprehensive nourishment for stronger nails and lustrous, healthy hair. Experience visible results and convenience in a delightful gummy form, with 30 gummies per bottle. Embrace resilient beauty and stronger hair effortlessly with Simply Herbal's Biotin Hair Gummies.
Key Ingredients
Biotin

Crucial for hair growth and nail strength, Biotin maintains overall nail and hair health.

Keratin

The foundational protein for hair and nails, enhancing their texture and resilience.

Vitamin A

Strengthens hair follicles, promoting robust and healthier hair.

Vitamin C

An antioxidant vital for collagen synthesis, bolstering hair's strength and vitality.

Vitamin D

Essential for hair follicle cycling, and maintaining healthy hair.

Vitamin E

Enhances scalp blood circulation, nourishing hair health.

Vitamin B5

Vitamin B5 (Pantothenic Acid): Combats hair thinning, promoting overall hair wellness.

Vitamin B6

Hormonal balance regulator, impacting hair health.

Vitamin B12

Enhances oxygen supply to follicles, boosting hair strength and growth.
Benefits
Enhanced Hair Strength

Enriched with Biotin, Keratin, and a range of essential vitamins, these gummies promote stronger hair, reducing breakage and supporting overall hair resilience.

Nourished Nails

The comprehensive blend of ingredients, including Biotin and Vitamin E, contributes to healthier nails by promoting growth and combatting brittleness.

Vibrant Hair Health

Vitamin A, C, D, and B-complex vitamins work together to nourish hair follicles, resulting in lustrous and vibrant hair.

Convenient Multivitamin

These gummies offer a convenient and delicious way to incorporate a variety of vital vitamins into your routine, supporting overall wellness and beauty from within.
How to use
Daily Delight:

Enjoy two gummies daily as a tasty addition to your routine.
Consistency Matters:

For optimal results, incorporate them into your daily regimen.
No Water Needed:

Chew and savor without the need for water, anytime, anywhere.
30-Day Supply:

One bottle provides a month's nourishment for healthier hair and nails.
Maximize Outcomes Stay Committed
Best Result Require at Least 3 Months

Important to Adopt a Healthy Lifestyle

Stay Well Hydrated by Drinking Water