Regular price
Rs. 1,245
Sale price
Rs. 649
Unit price
per
47% OFF
Sold out
Promotes Good Kidney Functioning

Helps in Good Bacteria Balance

Power House of Antioxidants

Aids in Heart Health
Please hurry! only left in stock
100% Secure Transaction
Free Shipping
Easy Return Policy
Extra 10% Off Prepaid Order
FREE delivery : Metro cities delivery in 2-3 days
Order within
View full details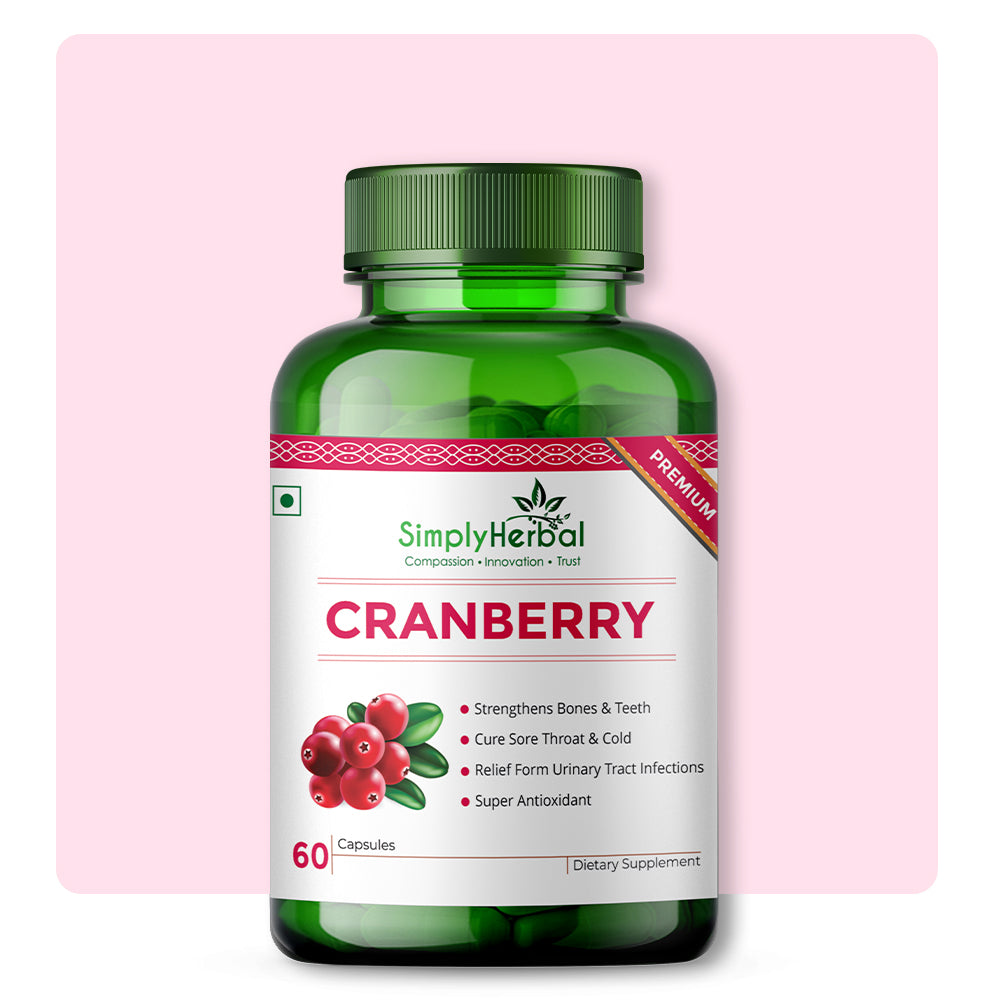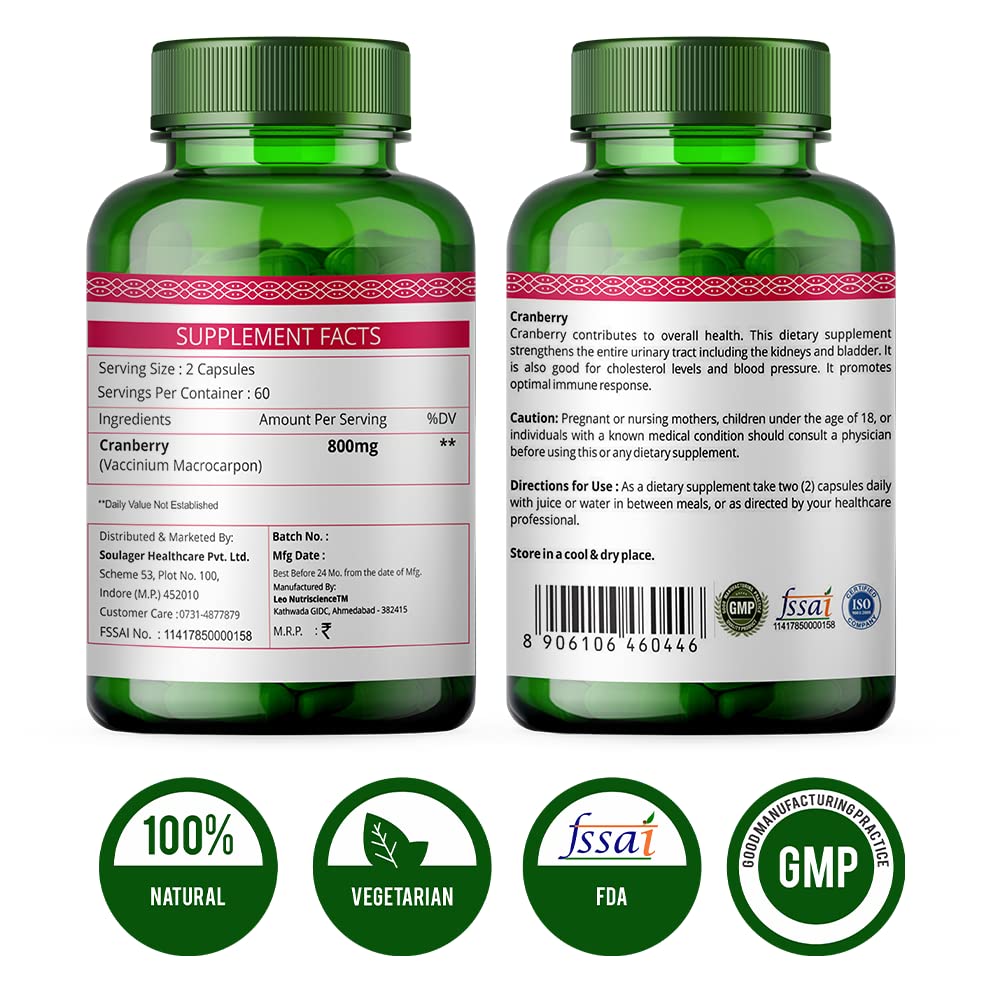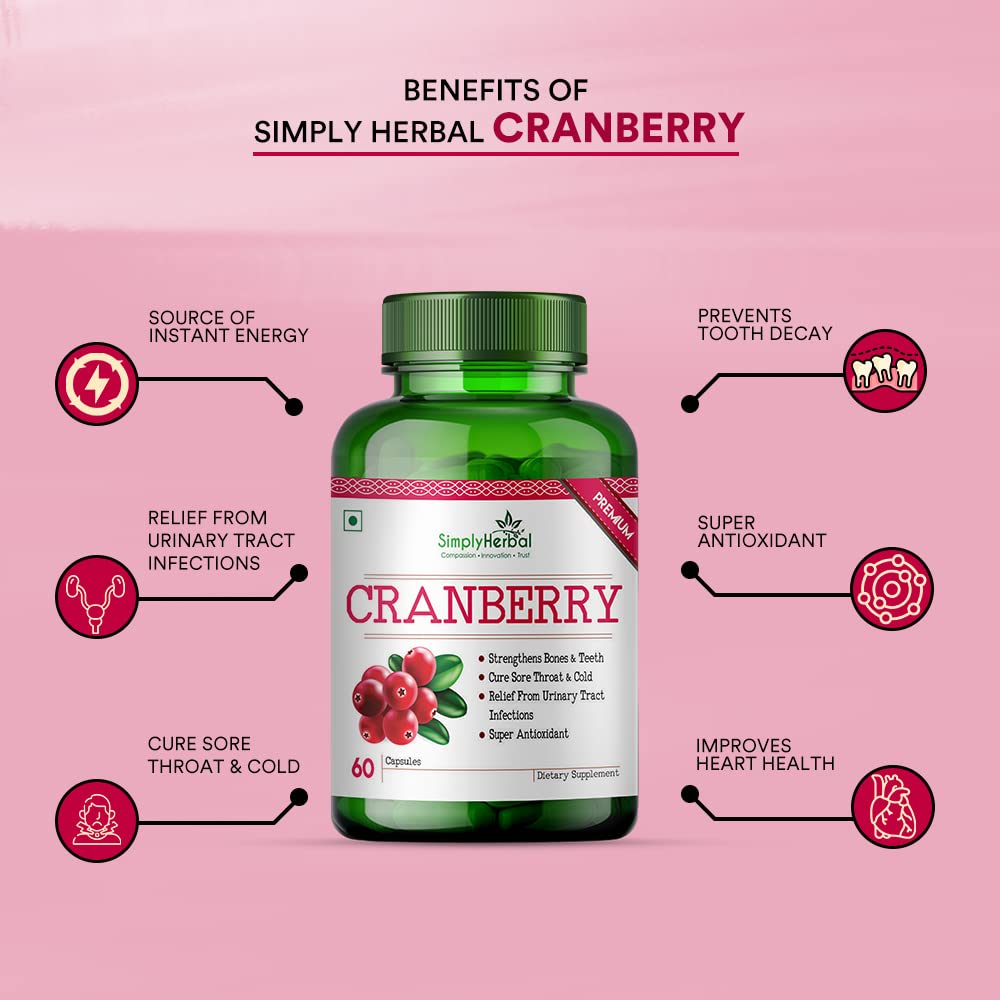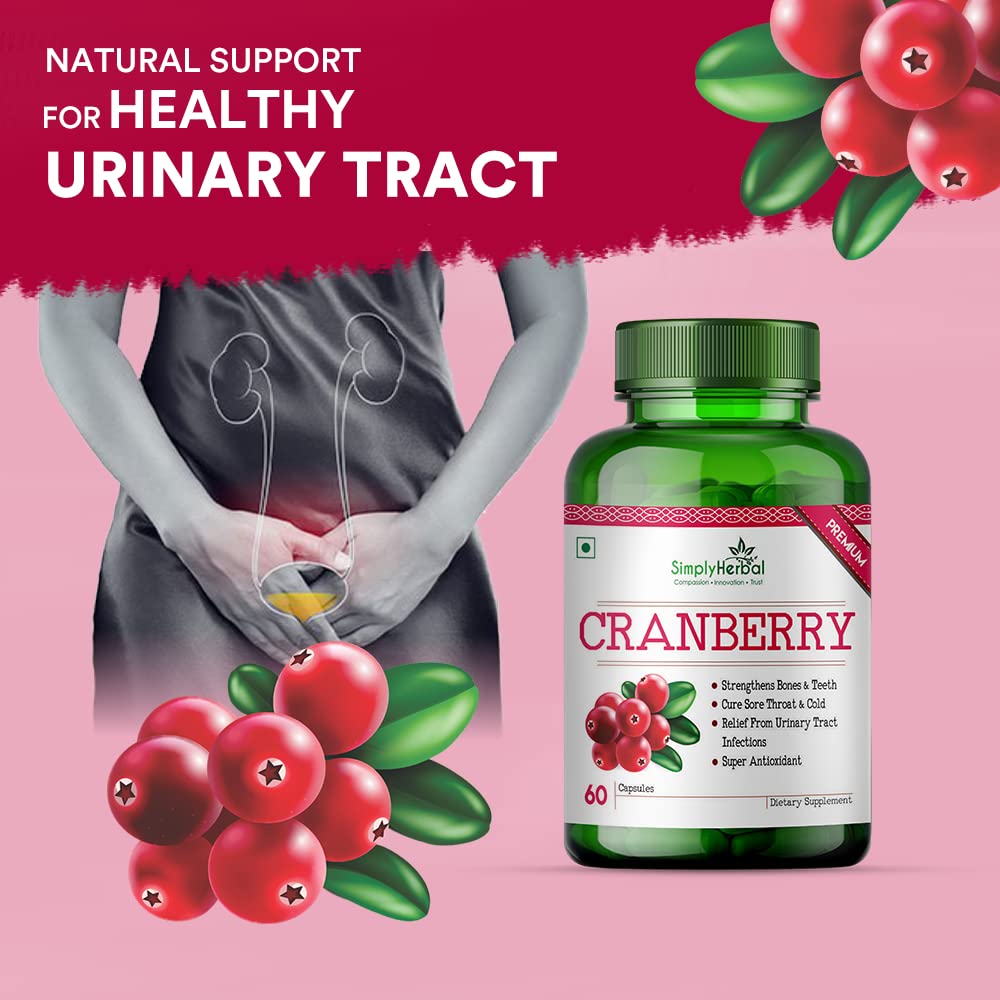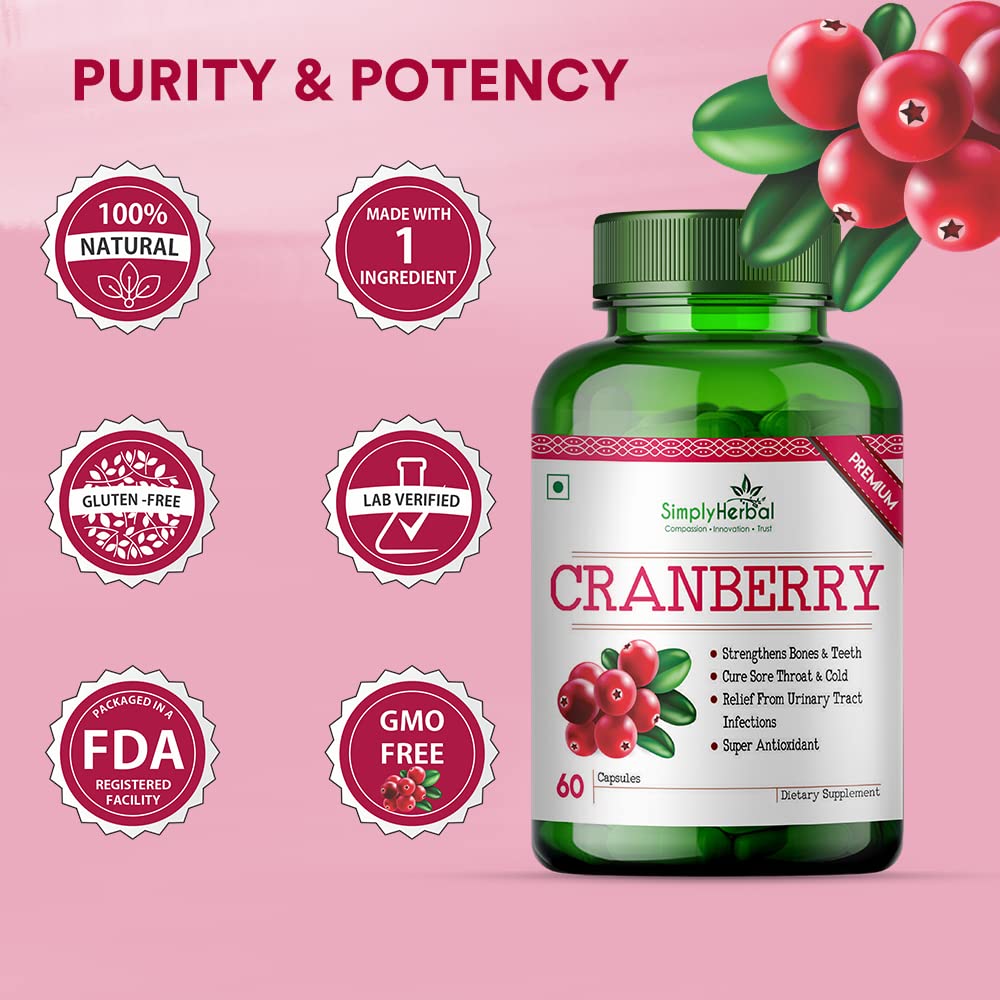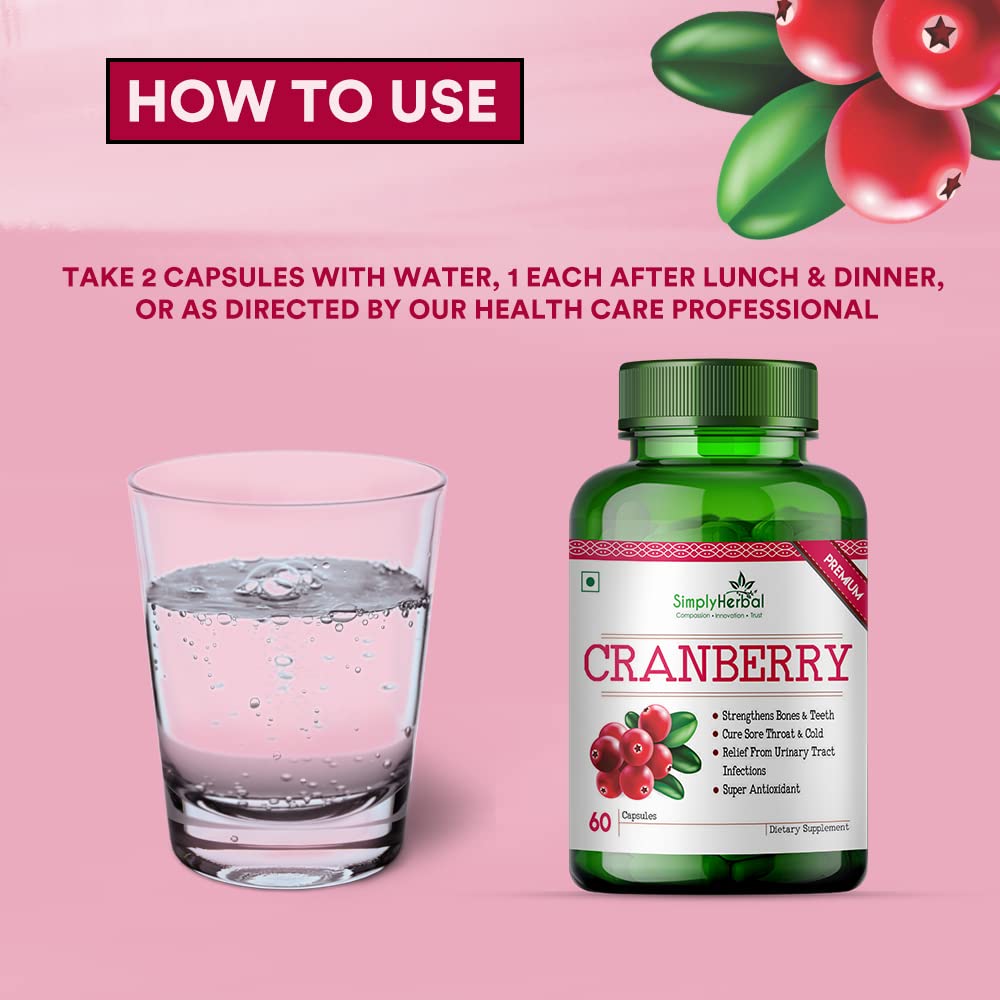 PRODUCT DETAIL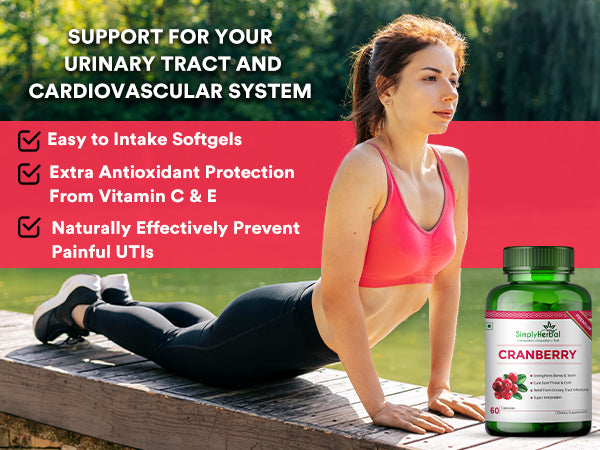 More Potent Source of D Mannose
Introducing Simply Herbal D Mannose Cranberry Extract Capsules, a Premium Supplement Carefully Crafted to Support Urinary Tract Health in Both Men and Women. Each Capsule Containing 800 Mg of D Mannose Cranberry Extract, Offers an Adequate Dosage to Sustain Optimal Urinary Tract Function and Reduce the Likelihood of Utis .
D Mannose, a Naturally Derived Sugar, Acts as a Protective Barrier, Preventing Harmful Bacteria From Adhering to the Urinary Tract Walls. Our Unique Formulation Incorporates Probiotics That Support a Balanced Gut Microbiome, Boosting the Immune System and Creating an Ideal Urinary Tract Environment. Moreover, the Inclusion of Antioxidants Aids in the Neutralization of Free Radicals, Promoting Overall Well-being.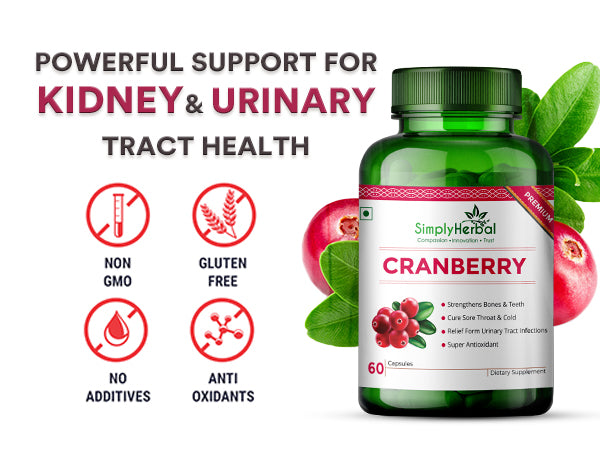 Promote Urinary Tract Health For Women & Men
At Simply Herbal, We Are Dedicated to Manufacturing Capsules of Outstanding Quality and Purity, Ensuring They Are Free From Artificial Additives. Make Simply Herbal D Mannose Cranberry Extract Capsules a Part of Your Daily Routine to Actively Promote Urinary Tract Health and Experience the Advantages of This Powerful Combination. Make Your Well-being a Priority and Embrace a Satisfying Life With Our Top-notch Formula.
Why Simply Herbal D Mannose Cranberry Extract Capsules?
Welcome to Simply Herbal, where your well-being is paramount! Experience the potent benefits of our D Mannose Cranberry Extract Capsules with probiotics and antioxidants, promoting optimal urinary tract health. Our meticulously formulated supplement contains D Mannose and Cranberry Extract, fostering a healthy urinary system for daily confidence. Potent probiotics reinforce gut health, bolstering overall well-being. Antioxidants combat free radicals, maintaining balance in your body. Count on us for UTI prevention and support. Crafted with care using natural ingredients, our capsules offer gentle and effective solutions. Embrace a life of wellness with Simply Herbal's D Mannose Cranberry Extract Capsules.
Key Ingredients
D Mannose

Derived from certain fruits, D Mannose aids in promoting urinary tract health by assisting in the removal of harmful bacteria from the urinary system.

Cranberry Extract

Abundant in antioxidants, cranberries have a long-standing tradition of supporting urinary tract health by inhibiting bacterial adhesion to the urinary tract walls.

Probiotics

Our supplement incorporates powerful probiotics that foster a balanced gut microbiome, contributing to improved digestive health and reinforcing the body's innate defense mechanisms.

Antioxidants

Enriched with antioxidants, these capsules are instrumental in combating harmful free radicals, diminishing oxidative stress, and promoting overall balance and well-being.
Benefits
Improved Urinary Tract Health

Simply Herbal's D Mannose Cranberry Extract Capsules are carefully formulated to promote optimal urinary tract health for both men and women. The unique combination of D Mannose and Cranberry Extract helps maintain a balanced urinary system, providing confidence and comfort in daily life.

Probiotic Boost for Gut Health

Our supplement features powerful probiotics that support a balanced gut microbiome, contributing to overall digestive wellness and fortifying the body's natural defenses.

Antioxidant Protection

Our capsules are enriched with antioxidants, crucial in neutralizing harmful free radicals, reducing oxidative stress, and promoting overall bodily balance.

UTI Prevention & Support

The synergy of D Mannose and Cranberry Extract in our supplement aids in reducing the risk of urinary tract infections (UTIs) and provides essential support to prevent their recurrence, ensuring a healthier urinary experience.
Usage
Recommended Daily Intake

Take 1 capsule daily with a meal or as directed by a healthcare professional.
Stay Hydrated

For optimal results, ensure adequate hydration while using the supplement.
Consistent Use

To experience the full benefits, use regularly as a part of your daily wellness routine.
Consultation

If you have any underlying medical conditions or are pregnant/nursing, consult your healthcare provider before use.
Maximize Outcomes Stay Committed
Best Result Require at Least 3 Months

Adopt a Healthy Lifestyle

Stay Well Hydrated by Drinking Water
Safety Precautions
Consult a Physician Before Taking Any New Supplement.
Keep Out of Reach of Children.
Keep in a Cool, Dry Place, Away From Direct Sunlight.
Do Not Use if the Safety Seal is Damaged or Missing.