Regular price
Rs. 799
Sale price
Rs. 599
Unit price
per
25% OFF
Sold out
Get Shiny Hair

Strengthens Nails

Regrow Hair Naturally

Ultimate Nourishment
Please hurry! only left in stock
100% Secure Transaction
Free Shipping
Easy Return Policy
Extra 10% Off Prepaid Order
FREE delivery : Metro cities delivery in 2-3 days
Order within
View full details
PRODUCT DETAIL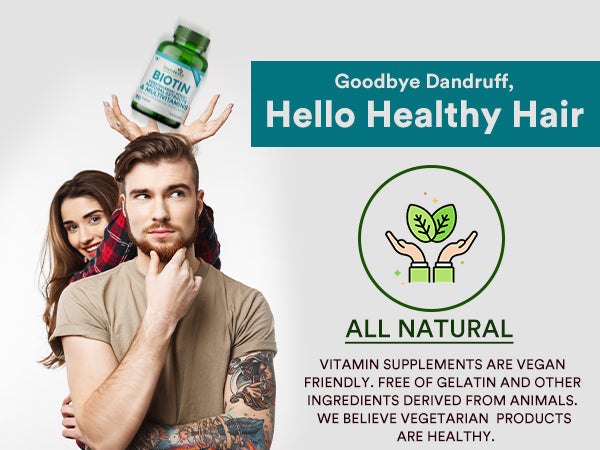 Enriched With Keratin + Multivitamin + Amino Acid For Men & Women
The Simply Herbal Natural Biotin Vitamin B7 Capsules are a premium dietary supplement designed to support healthy hair and skin. Formulated with a potent blend of biotin, keratin, multivitamins, and amino acids, these capsules provide comprehensive nourishment for both men and women. Each bottle contains 90 capsules, offering a convenient and long-lasting supply.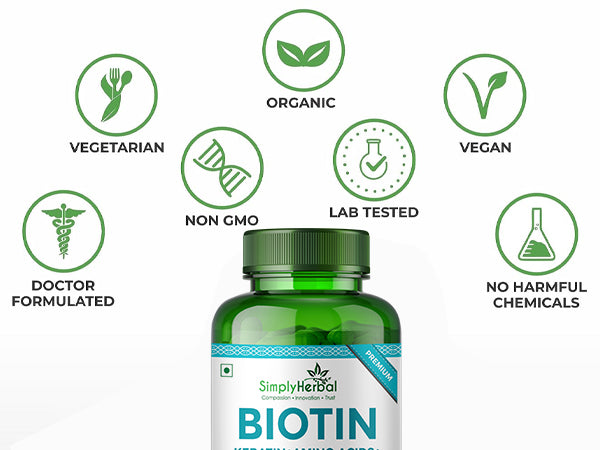 HIGH-POTENCY BIOTIN SUPPLEMENT
ULTIMATE NOURISHMENT Formulated With 30mcg Biotin Vitamin B7 Supplement of Essential Keratin & Minerals, Biotin Helps Support Hair Growth and Strength for Thicker, Beautiful Softness and Radiance. Third Party Tested, GMP certified, US FDA approved, Licensed By FSSAI, Clinically Proven Ingredients, Pure, No Filler, No Binders.
Why Simply Herbal Biotin Vitamin B7?
Formulated With One of the Most Important Skin Vitamins, the Antioxidant Power of Bamboo Extract in These Capsules Gives Your Overworked Skin a Helping Hand to Fight Back Against Free Radical Damage. Plus, This Biotin Supplement Contains Multivitamin for Healthy Skin and Healthy Metabolism. Our Simply Herbal Biotin Supplement With Keratin Provides Ultimate Nourishment to Stimulate Growth, Enhance Strength and Promotes Hair & Nails Health. Our Unique Formula Includes Biotin and Keratin Bamboo Extract to Help Get Your Glow Back From the Inside Out, Without Having to Buy Separate Supplements.
Key Ingredients
Keratin Vitality

Keratin is a natural protein that is abundantly present in hair, skin, and nails. Its primary function is to reinforce and nourish the hair shaft, boosting its elasticity and overall health. When you incorporate keratin into your hair care routine, you can experience the benefits of stronger, shinier, and more resilient hair, achieving a vibrant and healthy appearance.

Biotin (Vitamin B7)

Biotin is a vital water-soluble vitamin that plays a crucial role in promoting the growth and upkeep of healthy hair, skin, and nails. By supporting the body's natural processes, it aids in preventing deficiencies that may contribute to hair loss and skin issues. Embrace the benefits of this essential vitamin for nourished and vibrant hair, skin, and nails.

Multivitamin Complex

This blend of essential vitamins and minerals provides comprehensive nourishment to support overall health. It includes vitamins such as A, C, E, and D, as well as minerals like zinc, selenium, and copper, which are vital for healthy hair, skin, and nails.

Essential Building Blocks

Amino acids serve as the fundamental building blocks of proteins, which play a critical role in maintaining the structure and functionality of hair, skin, and nails. The Simply Herbal Natural Biotin Vitamin B7 Capsules are enriched with a unique blend of amino acids, carefully formulated to support the body's natural processes and enhance the health of your hair and skin.
Benefits
Encourages Hair Health

Biotin, commonly known as vitamin B7, is a crucial nutrient that supports the overall well-being of your hair. The Simply Herbal Natural Biotin Vitamin B7 capsules are designed to fortify hair follicles, reduce hair loss, and promote healthy hair growth. As a result, you can achieve vibrant, voluminous hair that radiates with natural shine and vitality.

Enhances Skin Well-being

The unique blend of biotin, keratin, and multivitamins in these capsules works synergistically to enhance the health and appearance of your skin. By delivering essential nutrients, these capsules promote the production of collagen, a crucial element for maintaining youthful and vibrant skin.

Supports Nail Strength

Biotin is known for its ability to strengthen brittle nails and promote their growth. You can enjoy stronger and healthier nails by incorporating these capsules into your daily routine.

Boosts Overall Health

In addition to biotin, these capsules are enriched with a multivitamin complex and amino acids. This powerful combination supports overall well-being and helps maintain a healthy metabolism, immune system, and energy levels.
How to Use
Consume One Capsule Per Day With a Glass of Water, or as Advised by Your Healthcare Professional. To Maximize the Benefits, It is Recommended to Take the Capsule Alongside a Meal. Please Adhere to the Recommended Dosage and Refrain From Exceeding It for Your Safety and Well-being.
Maximize Outcomes Stay Committed
Best Result Require at Least 3 Months

Adopt a Healthy Lifestyle

Stay Well Hydrated by Drinking Water