Regular price
Rs. 899
Sale price
Rs. 699
Unit price
per
22% OFF
Sold out
SUPPORT CELL HEALTH

BRAIN FUNCTION

BEAUTY HAIR, SKIN & NAILS

BOOST ENERGY
Please hurry! only left in stock
100% Secure Transaction
Free Shipping
Easy Return Policy
Extra 10% Off Prepaid Order
FREE delivery : Metro cities delivery in 2-3 days
Order within
View full details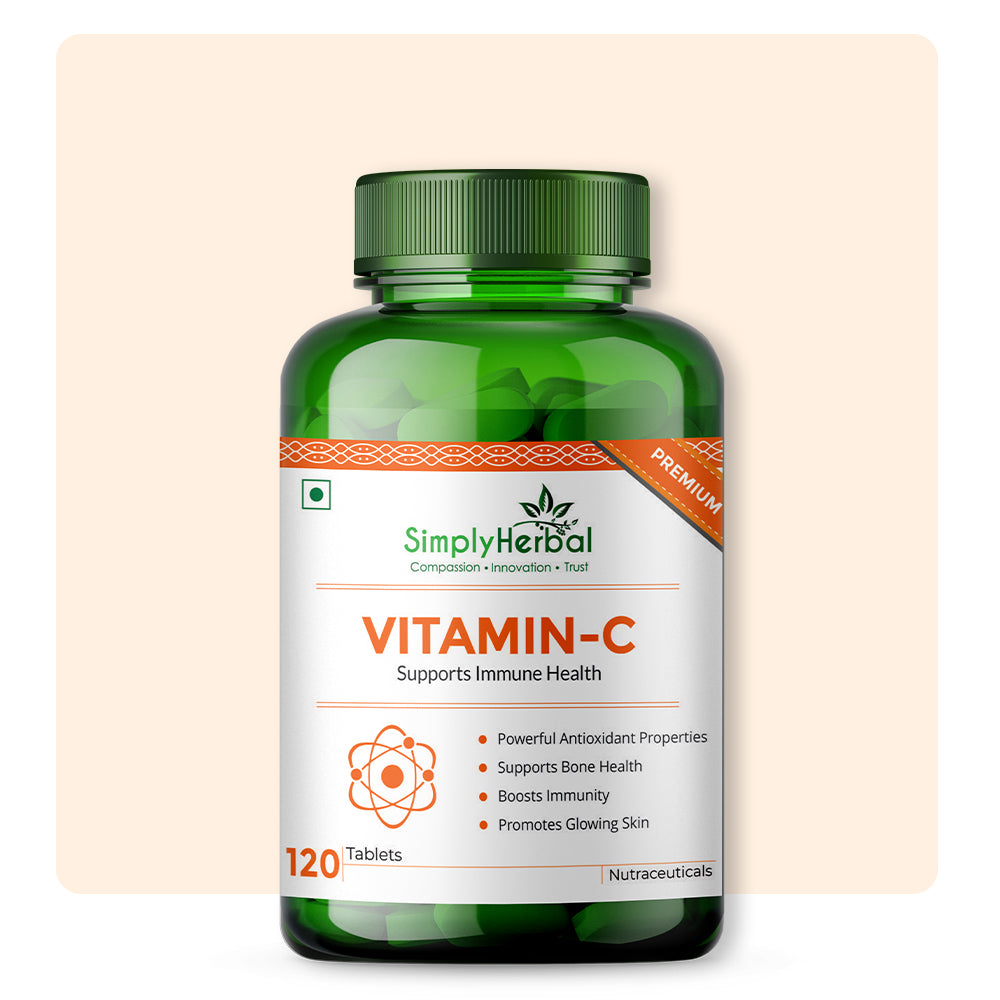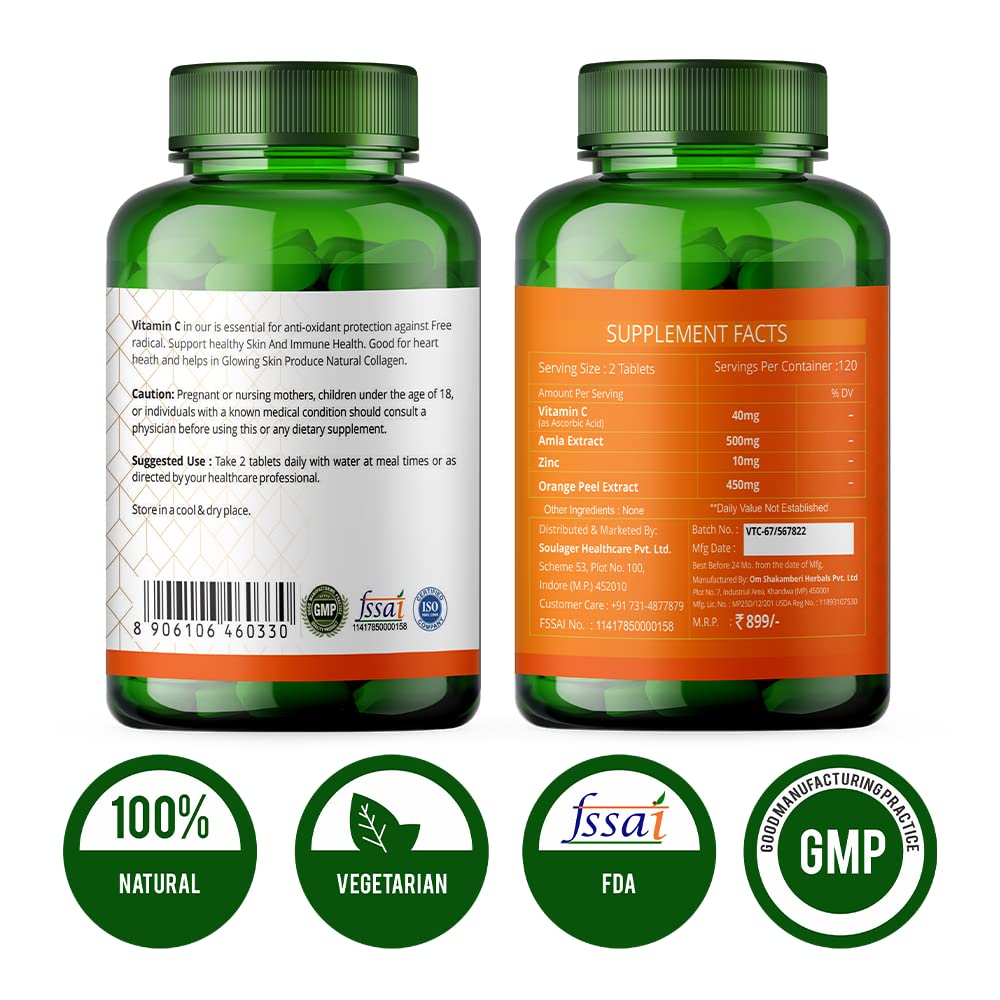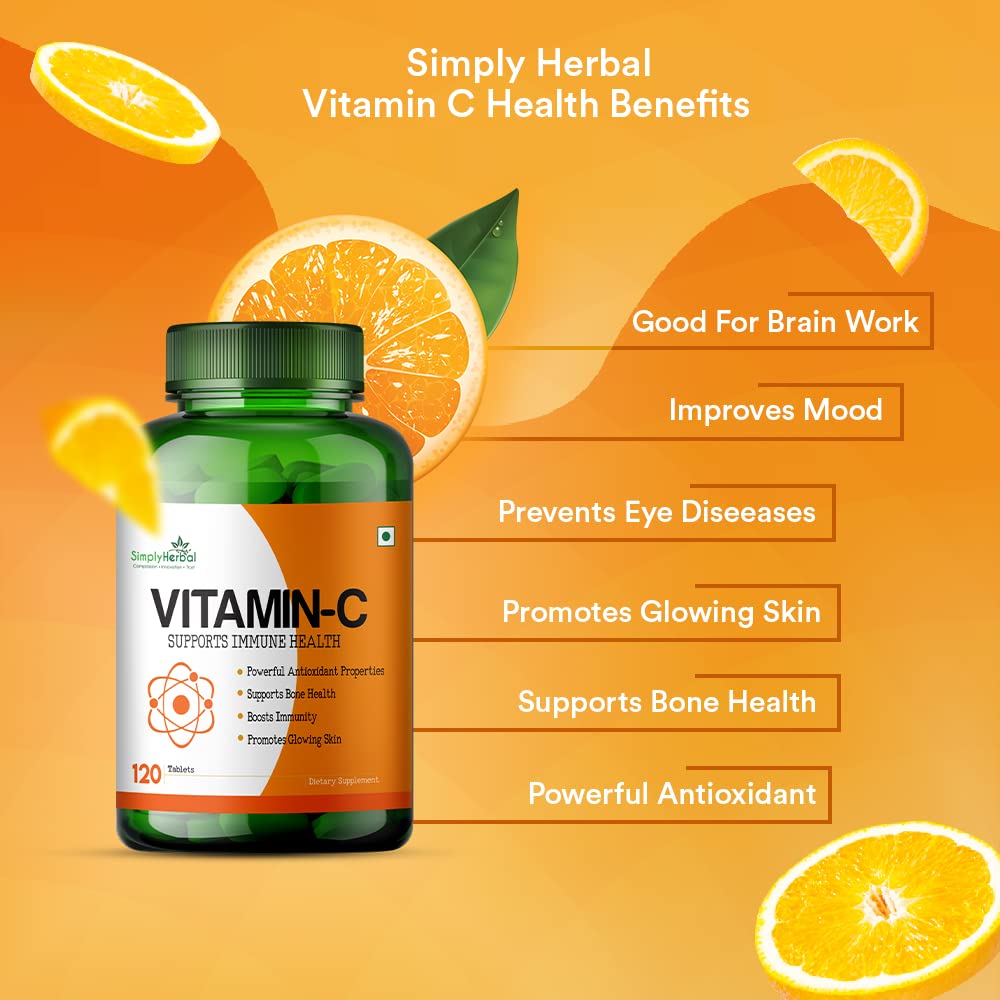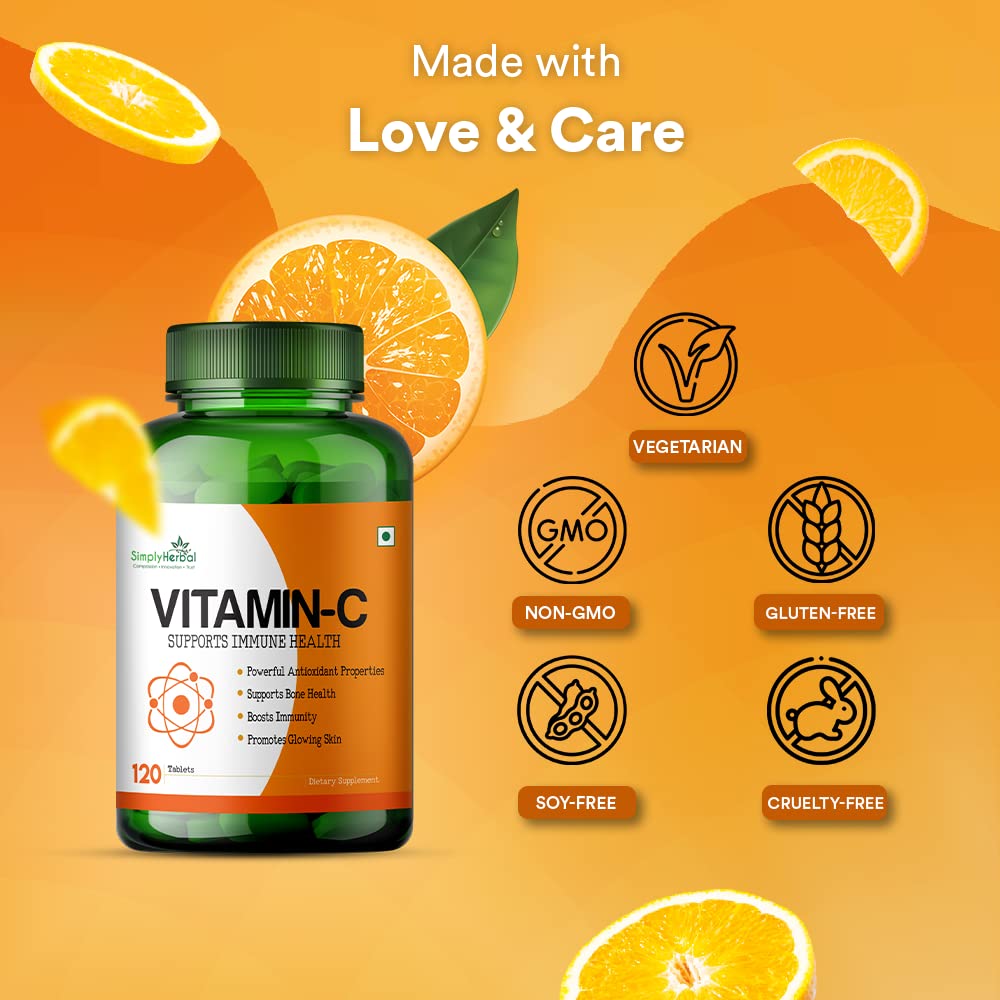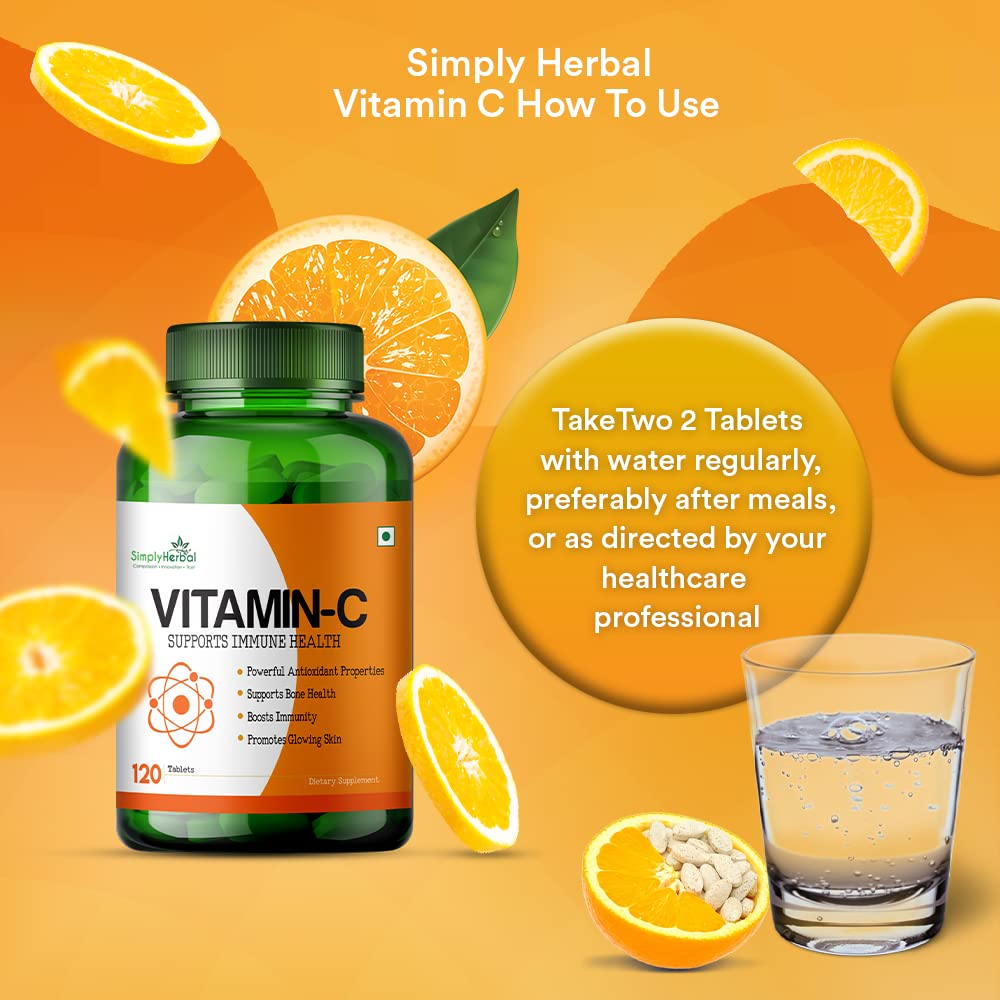 PRODUCT DETAIL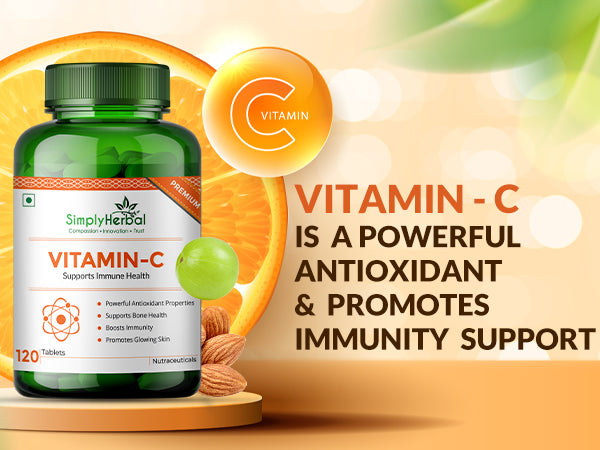 Vitamin C Tablets for Glowing Skin & Face
Vitamin C Tablets for Glowing Skin & Face, Support Immune Health, Natural Brightening, Supplement Promote Body Immunity.

1. Immune Support
2. Antioxidant Defense
3. Skin Health
4. Collagen Production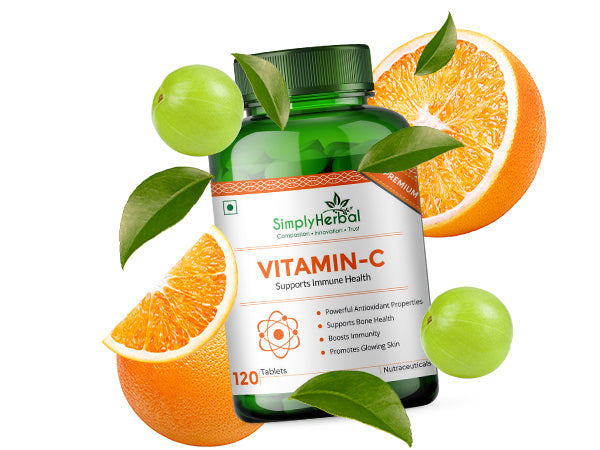 SUPPORT NATURAL SKIN GLOW
Thanks to Its Antioxidant Content, Vitamin C Benefits to Skin Health Through Several Different Mechanisms. Because It's Involved in the Synthesis of Collagen, Vitamin C is Believed to Help With Skin Problems, Give a Clean and Clear Face and Can Also Protect Against Skin Damage and Free Radical Formation Caused by Ultraviolet Exposure. Using Vitamin C Tablets Gives Benefits More Than Vitamin C Serum for Face or Face Wash.
Why Simply Herbal  Vitamin C  ?
Welcome to Simply Herbal! Discover the benefits of our Vitamin C Tablets for glowing skin, immune support, and natural brightening. Specially crafted for both men and women, these supplements promote radiance from within, nourishing your skin and enhancing overall beauty health. With powerful immune-boosting properties, they fortify your body's defenses. Embrace the transformative power of nature with Simply Herbal's Vitamin C Tablets - a vital addition to your daily routine. Experience a healthier, more radiant you with 120 Veg Tablets. Prioritize your well-being and start your journey to holistic beauty today. Consult your healthcare professional before use.
Key Ingredients
Ascorbic Acid:

The primary and active form of Vitamin C, recognized for its antioxidant and immune-boosting properties.

Citrus Fruits:

Vitamin C is naturally present in citrus fruits like oranges, lemons, and grapefruits.

Rose Hips:

Extracted from the fruit of the wild rose plant, rose hips offer a concentrated source of Vitamin C.

Synthetic Ascorbic Acid:

Certain Vitamin C supplements may include synthetic ascorbic acid, derived from natural sources or artificially produced in laboratories.
Benefits
Enhanced Immune Support:

Herbal Vitamin C tablets assist in bolstering the immune system, promoting overall well-being.

Antioxidant Defense:

The tablets offer potent antioxidant properties, safeguarding cells from oxidative damage by free radicals.

Healthy Skin:

Vitamin C is crucial for collagen production, contributing to radiant skin and overall skin health.

Vitality Boost:

Herbal Vitamin C tablets may contribute to increased energy levels and overall vitality, supporting an active lifestyle.
How to Use
2 Tablet per day of Simply Herbal Vitamin C. Do Not Exceed the Recommended Dosage Unless Advised by a Healthcare Professional.
Maximize Outcomes Stay Committed
Best Result Require at Least 3 Months

Important to Adopt a Healthy Lifestyle

Stay Well Hydrated by Drinking Water